Tuesday 28 June 2011 : Dublin, Ireland -> Bishops Waltham, England
We finally found the Dublin Port, after a few wrong turns and some missed directions from the TomTom, but the Irish Ferries staff checked us in early for the express ferry trip to Holyhead and we didn't see any security or even a passport or immigration officer – so much for needing a visa to get back into the UK!.  The ferry trip was just a few hours, so we found a seat and vegged out for the time, listening to the people around us complaining about the economy etc.
We made it into the UK on-time and whizzed through any form of security or immigration again we headed straight to Bishops Waltham and a campsite near Portsmouth.  We didn't have a booking, but the lovely lady organised a spot for us and told us where to go for dinner, shopping and all about her daughter living in Adelaide.  She is a great host and full of great travel stories.
We headed to the local pub "The Black Dog" for a drink and a meal.  Scott was ecstatic to try something other than Guinness and we listened to the tennis on the TV and all the English accents surrounding us – so different to Ireland.
Wednesday 29 June 2011: Bishops Waltham
We headed into Portsmouth and bought some groceries, TV and some DVD's which we arranged and set-up in the supermarket car-park just to make sure they worked.  We haven't watched any TV or listened to radio for over a month, so this should be novel.  We did a bit more searching around for different pieces before heading back to the campsite and doing the finishing touches to Vinnie ready for the trip to France.  We again headed to "The Black Dog" for a final meal and drink – leaving Old Blighty behind at last.
Thursday 30 June 2011: Bishops Waltham, England -> Port-en-Bessin-Huppain, France
Up and at the ferry terminal a bit early so they could print out the tickets etc.  We were finally embarked onto the ferry (after having to drive Vinnie on in reverse).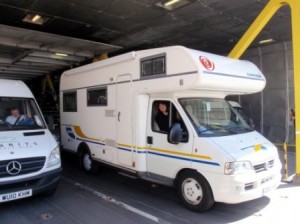 There was no immigration control, so we presume that will happen in France.  We got some seats at the front of the ferry and Scott caught up on some work on the computer (the battery has completely failed, so we need to be plugged into power to use it – and you can't buy another battery, it has to be ordered on the internet which is all well and good when you have an address).  Tracy took a travalcalm for the three hour crossing and slept most of the way.  Before you know it we were in Cherbourg and as we were on the ferry towards the end, they kindly let us off first which wasn't our plan as we fully intended to follow everyone else and get the hang of driving on the other side, c'est la vie.  Again we drove out of the ferry port with no immigration and hence no stamps in Scott's passport, we are convinced this is going to come back and be a problem later.
We decide to grab a bite to eat in Cherbourg as the parking was incredibly easy, even in a motorhome, and then drive to view the D-Day beaches and memorials.  We headed to Quettehou and along the coast past Utah Beach and towards Omaha Beach.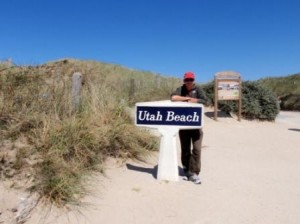 The beaches are huge swathes of sand and you just don't get the same feeling of despair as you do at Anzac Cove, but considering the quantities of men who died landing and leaving this beaches it is again just makes you realise that wars are just pointless.  We then continued to Bayeux and onto Port-en-Bessin-Huppain on the cost to a campsite where we pitched on French soil for the first time.  The weather is wonderful – warm, sunny etc and Tracy lazed in the sun for a bit to catch up on some much needed rays.