Well today we are catching the Eurostar to Paris.  We arrive at Kings Cross St. Pancras with plenty of time and buy some snacks for the train, go through check in, whizz through security and Scott has his passport stamped with no fuss or problems – this is so much easier than the airport.  Unfortunately we thought it would all take a bit longer, so now have about an hour to wait for the train.  There are several trains heading out of London tonight – Brussels, Lille and Paris, so the terminal is busy with people milling around.  The building is gorgeous, however, the refit for the Eurostar has tried to make it very minimalist with furniture and stupidly no rubbish bins, so of course, rubbish is strewn everywhere with staff just milling around doing nothing.  There isn't a lot going on until an american man comes running in trying to catch the train to Brussels which is just departing and is mightly upset they won't stop the train for him.  The fact the ticket tells you to get to the station with 40 minutes to spare obviously doesn't apply to some people.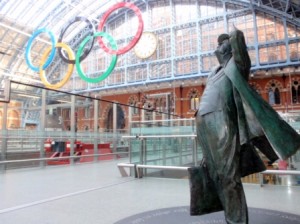 Finally the train is ready to board and we get our seats easily with minimal of fuss.  Only problem is that they are near the door which is constantly being opened and closed as people wander up and down the train.  As the windows are tinted you also can't take pictures.  Not that there is must to take pictures of we you litteraly whizz by the countryside before going into the tunnel.  When we pop out into the French countryside it is starting to get dark, so we settle down, eat our sandwiches and read our book.  Before you know it you are in Gare du Nord, Paris.  Now comes for the fun bit – the announcement is made – no smoking within the train station, unfortunately that doesn't count for all the smokers who now block the exits of the train as they are busy lighting up.  I understand it is an addiction, but honestly have some consideration for other people.
We find the ATM and get some Euros.  I think we really need to be a bit more prepared and travel with some currency for the countries we are going too.  We then stand in the huge taxi rank for what seemed like a lifetime.  Of course I have everything, but a map that shows me how close the hotel is to the train station.  So when we get in a taxi, the taxi driver is extremely unhappy and rude about the short distance to go.  Luckily when we get to the hotel, the staff are wonderful, very helpful and have everything all ready (Hotel Pavillon Opera Lafayette).  We drop our bags off.  The room isn't very big nor that flash, but has a bed, shower and a window to watch the world go by from, but as we don't plan on staying in, it is well situated to all the sites.  We ventured into Montmartre and find a little restaurant for dinner  (Le Carrousel on Rue de Rivoli) where I had a huge salad full of beans, asparagus, tomatoes, carrots etc and Scott had French Onion Soup.  Full and happy after having some of the local French wine, we wandered back through the streets taking in the views of Sacre Coeur before calling it a night.
18 March 2011
Well today looks relatively sunny, so we have the continental breakfast of coffee and croissants before heading out to do the sites.  We have a huge day planned.  We set-off into the quite streets of Paris and head down towards Notre Dame, which obviously we soon realise we have got wrong and actually end up at the Louvre.  It is only 10am and already there is a huge queue, so decide to bite the bullet and start queueing, which is moving slowly, mainly held up by the security procedures you have to go through.  Strangely enough they didn't even ask us about our full water bottle, so not sure how rigid they are.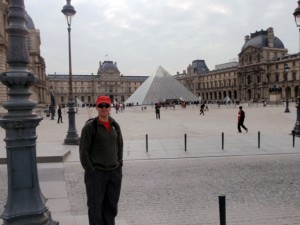 Inside the Louvre we then need to queue up for tickets which is all automated and isn't particularly user friendly, but we eventually get two tickets out of the machine and then head to the first lot of galleries.   The Egyptian displays.  Always on my bucket list is a visit to Egypt, but we want to let the recent turmoil settle down a bit, so instead here we are in the museum which has a good display (lacking some of the big items that the British Museum has) and we also realised in hindsight that we didn't get the audio display and absolutely nothing is in English.  Still we can decipher enough to keep us happy and even better you are allowed to take photos here – not meant to use a flash, but that doesn't seem to be policied in anyway.  What you can't do is touch the displays which some people don't seem to get.  We eventually came out of into an older part of the Louvre where the building is by far the star of the show.  The ceilings and adornments are so much you can't focus and end up walking around trying to look up, down and sideways.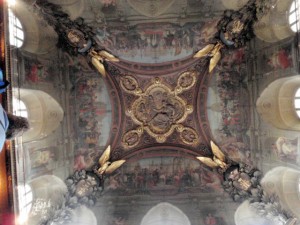 Of course the next big item on the list to see is the Mona Lisa by Leonardo Da Vinci.  He has a few paintings in the Louvre, but this must surely be the star attraction – it is like a rugby scrum to get a picture.  Scott took pictures instead of people taking pictures of the painting.  I don't think most people were that interest in the actual painting, just having a picture of themselves taken.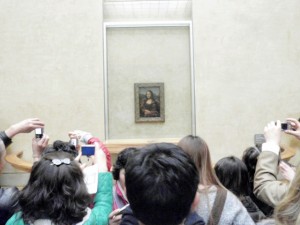 We continued walking through the museum, but Scott was getting picture/art etc overload.  Not his strong point, so we decided to venture back outside.  We were now extremely pleased we had gone in earlier as the queues were massive and snaking all around the entrance.  If you are planning on visiting the museums etc here in Paris make sure you get here early.
Next we walked to Notre Dame Cathedral which is a beautiful building and also home of the myth of Quasimodo – well Scott thought it was a myth, but I was still undecided if there was some truth to it.  We walked around the outside of the building as the queue again was down the whole length of one side.  I do find a lot of churchs you can't take photos etc, so admiring the architecture from the outside can be a whole different perspective, plus you get to study (or stare) at people.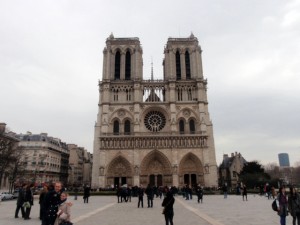 After this visit we walked back along the Seine and stopped at a small cafe for lunch.  My waiter was very upset I was vegetarian, but Scott made up with it by ordering duck and a bottle of wine.  My omelette and salad were lovely, so tasty and interesting.  Scott seemed to thoroughly enjoy his meal almost licking the plate clean. 
So happily stuffed we hit the road again.  This time it was the walk up the Champs Elysees, where Scott was planning where he would be standing on the last day of the the Tour De France.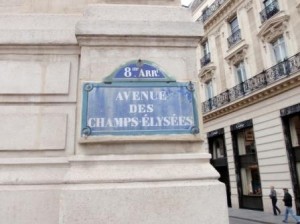 This is a long street full of loads of shops, which are no different these days to anywhere else we have been in the world.  What is different is the amount of homeless and beggars – they are much more prolific than even India, plus they just beg and the item of choice to beg with is a dog.  It is sad and you do wonder about their life and how they ended up here.  A lot of people looked like they were immigrants and it is hard for me to comprehend that their life in their home country could be much worse than living on the streets of Paris in the winter.  I know a lot of European countries are having financial problems, but there must be alternatives somewhere for people.
At the end of the Champs Elysees is the Arc de Triomphe.  Scott did wonder that France would need it for due to their recent battles in history, but it was obviously for Napoleon and before, although my history is a bit limited.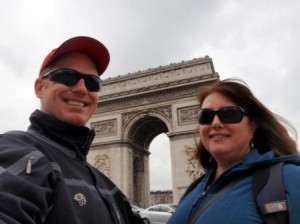 Walking back to the hotel we stopped for a quick fortifying red wine (Medoc and Bordeaux) at La Tour D'Auvergne on Rue Des Martyres which was a great spot, inside and warm, to watch the world go back and everybody shopping at the tiny little food stores along this part of the street.
I have to say after all this walking, eating and drinking we are feeling a tad tired, so start the long trek back to Montmatre and the possibility of a very short afternoon nap.  Besides it was getting cold and as usual we were underprepared with hats, gloves and jumpers in the hotel keeping nice and safe.  After a super short nap we were up and rugged up ready to hit the streets of Paris at nighttime and get to see some of the sites in a different perspective.  However, in the short time we had a snooze it had begun to rain.  That wasn't in my plan of sightseeing in Paris.  Luckily after living in London for the last few months, we now carry umbrellas with us wherever we go.  We still decide to head out and find another local restaurant (Le Paprike on Avenue Trudaine) that served French/Hungarian food.  I had a delicious mushroom risotto and Scott had hungarian goulash along with a lovely bottle of Bordeaux AOC, just the thing to take away the rainy blues.  The restaurant had a constant turnover of people and it was fascinating to sit there and watch all the different types.  There doesn't seem to be a lot of tourists, mainly french people.  The same for our hotel, we were the only English people for breakfast that we noticed, everyone else either spoke very good fluent French or were French themselves.  So fortified with wine and food we made a dash for the very seedy district surrounding the Moulin Rouge.  This is reminiscent of Kings Cross, but sadly even more tacky, if that is possible.  We ended up the night standing in the rain taking photos before giving up.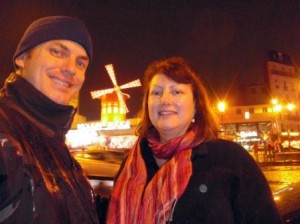 19 March 2011
Another early start with a croissant and coffee, ready to cover the other side of the Seine and some more sights.  So today we headed up first to the Musee D'Orsay which is a magnificent building housing the impressionist era paintings.  We usual there was a queue, which moved very slowly even in the ice cold freezing weather.  The security here was a lot slower (only two people checking bags), before we got our tickets and were toasty and warm inside the art gallery.  Disappointingly you can't take photos inside the Musee, which is a shame as the building inside is so impressive and outside it is under renovations.  However, I spent another few hours dragging Scott from one Monet, Manet, Degas, Rodin, Seurat, Gauguin, Pissarro, Sisley etc until he looked like he was going to collapse with boredom.  He it totally nonplussed with art, although did begrudgingly say he liked one of the Monet's.  So we re-rugged up and headed back outside.  This time with the Eiffel Tower in our sights.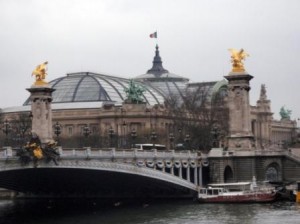 We walked along the Seine past the Grand Palace which is a huge glass conservatory building flanked and surrounded by columns of gold statues, amazingly intricate light poles and any and every other type of ornaments you can think of to decorate the bridges, statues and columns.  Scott did think it was probably a good thing the revolution happened as the profligate spending must have been crippling for those who weren't in the royal family or their mates.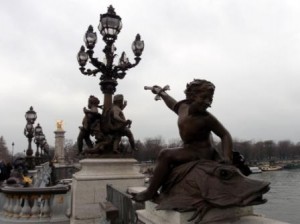 You may think that Paris is all relatively old architecture designed by Haussman in the last century, but there is actually some new and very interesting designs.  Around the corner from the Eiffel Tower is a large green building, with vertical green walls which is also attached to a large conservatory/greenhouse that houses  a restaurant.  Not sure how the plants survive the cold, but it seems to be thriving and does not look out of place amongst the classical architecture of previous times.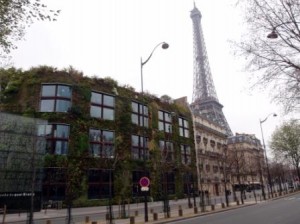 Finally we made it to the foot of the Eiffel Tower.  Scott was disappointed, it was much smaller than he thought, but the intricate work within the building is fantastic.  We decided not to go up, as it is now very cloudy and bitterly cold, so you can't see much, the queues are horrendous and we were starving.  All good motives for moving on to the park behind the Eiffel Tower and taking in the views from a distance out of the wind. 
Of course while Scott was making sure and checking he would be able to see the riders, I was busy looking at some of the architecture.  Even the lampposts have the most beautiful engravings and moldings, you forget that they themselves are a piece of history and architecture – and even better they have not been vandalised as would happen in some many places.
Walking back towards the hotel you are aware of the hold that Sacre Coeur has on the city, it towers above everything and all streets seem to hold a view of even a small part of it.  I do think Paris should be renamed city of churches as there are so many and they are huge.
After a small sojourn into a local fromagerie for a small sample of cheeses and wine – you have to, it would be rude.  We stopped at the pub near the hotel for Scott to watch the Italy vs Scotland 6 Nations Rugby game.  This is a tiny pub and the highlight being two chickens who roam through the bar/main eating area.  This is strange and not sure how it would go in Perth in relation to food hygiene, but it was funny.  Of course unlike our chickens these ones didn't poop everywhere and were extremely tame and interested mainly in what was going on outside the window in the street. 
After game number one of the day, we headed back out to a different pub to watch the final two games on the 6 Nations where we managed to have something to eat/drink and enjoy the local vibe.  We won't talk about the game as it was not the best outcome for England. 
Tonight it is meant to be a full moon and also the closest it has been to earth for a while, unfortunately it is also cloudy and we caught the smallest glimpse.  However, we still went up to Sacre Coeur for some night time photos.  The front of the Basilica was full of music and groups of people – all watched over carefully by the local army with their machine guns.  Inside the church it is meant to be silence, but people can't even follow that simple rule.  You can't take photos inside, but the main pulpit area is a huge painting of Jesus in blue and gold and surrounding that are what look like paintings, but are in fact mosaics.  The main noise in the Basilica does unfortunately come from the donations machine which is somewhat like a slot machine.
So after walking to the top, we of course walked down past the buskers and a million little stalls selling the same extremely tacky Eiffel Tower ornaments – must get one of those.
Last day in our flying weekend to Paris.  So we got up and had the traditional coffee and packed our little daypacks and hit the streets.  Not before Scott was able to watch the world go by our local Patisserie and buy a baguette.
We decided this morning to go to some of the local markets.  There seems to be one in every suburb and we wondered what they would be like.  In addition to market stalls, the shops also have extended areas where they put out different items.  These strawberries looked amazing and we tried one and they were so juicy and tasty – nothing like the strawberries at home that tend to taste of nothing.
There is also a huge range of heirloom varieties on sale.  The prices, however, off all items seemed to be expensive but the variety is fantastic and there was no shortage of people at both markets we went to.
Just to remind ourselves that it was springtime in Paris, we visited some lovely gardens.  Paris has a lot of concrete and built areas, but the parks we wanted through were well keps and full of flowers.
Decided to visit another market and the last two monuments on our list we also ventured by the Pompidou centre that houses a large museum/art gallery, as usual, although it was early on a Sunday morning, the queues were already snaking around the building, with people patiently eating pastries and drinking coffee until it opened and they could venture inside.
The Bastile Monument is in a horrible part of town, although it appears to be one of the older parts of town, you are inundated yet again by the amount of homeless people and beggars.  However, this area also houses a huge open air market that was packed to overflowing and if you can't buy it here, I doubt whether you can buy it anywhere.
We enjoyed our coffee in a sidewalk cafe where you just sit and watch everyone going by.  Of course if you are going by you are stared at as well.  There didn't seem to be any restrictions where you can sit, as a lot of the roads were blocked off to cars, they were only busy with pedestrains and cyclists, so you weren't dying of fumes.
Our last main monument was the Republique monument celebrating the creation of the French Republic (different to the Bastille Monument).  This was again surrounded by the prerequisite beggars with dogs and variety of homeless people.
We found our way to Gard du Nord and had a lovely lunch at La Maison Blanche, including a bottle of very good wine (Bordeaux) – not that we haven't had anything else other than good wine, but it certainly helped us face the journey back to London.  We then headed into the terminal to board the Eurostar train back to London.  A fantastic weekend away and made all the better that they let Scott back into the UK with only a couple of questions.  Maybe the rude immigration officers at Heathrow should take note.