11-13 November 2011 – Amsterdam, Holland
An easy drive again today and into Holland – yeah another country with no borders.  The weather is sunny but still cold, so we aren't really deviating along the way and hope to get into Amsterdam early afternoon.  We are staying at Camping Het Amsterdamse Bos (www.campingamsterdam.com) in Amstelveen.  We arrive, get our spot and head straight out to find something hot to eat and for Scott to try the local beers.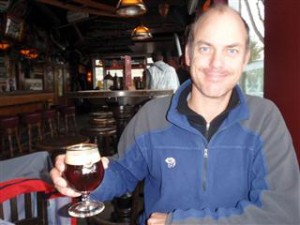 We head to a local bar on the advice of the girl at the reception counter and have a nice simple meal with a few beers and wines.  Stuffed, warm and merry we head back towards the campsite but find a supermarket to buy a few bits from, so now with some extra food we get back to Vinnie and do some tidying up.  Scott has a friend here in Amsterdam so he is coming to stay for a couple of nights and once he arrives, we soon head back out for dinner and a few too many drinks at another bar.
Up not so early with a slight hangover for me, we head into Amsterdam for some sightseeing.  We catch a train into Amsterdam but at the station there is no ability to use cash, so we board the train and hope that someone understands our predicament.  At the main station the guard lets us through as it is obviously a known problem and we head into the world of Amsterdam.  We are now in the hands of Geoff as he knows the area much better than us – it has been about 20 years since I have been here.  As soon as we head out of the station we take our life in our own hands with the millions of bikes, trams, cars and pedestrians heading in every direction.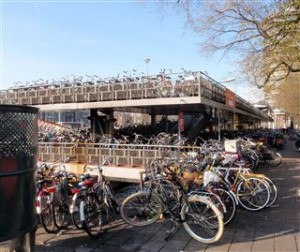 Like any good tour, we start the day with a walk through the Red Light District, considering the time of day some of these women are very scary, but due to the amount of drunken groups of men around, they probably look fantastic and are kept busy.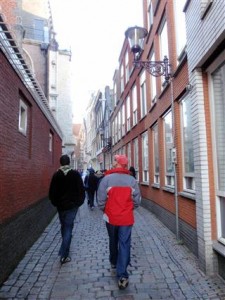 The architecture of the area and planning is also interesting; with buildings that fill every nook and cranny along the canals and it is one of the oldest parts of the city.  The women sit in windows wearing not very much, except lots of plastic i.e. boobs, lips etc and not always in the best taste, most of them also look just plain bored.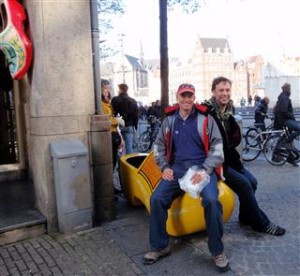 In Dam Square Scott and I bought our tacky souvenir straight away as we found the perfect thing so no point in prevaricating, I mean it is a ceramic windmill in the Delft colours and also has a pair of clogs and some tulips on it, oh and we also take in the view of the Royal Palace, which apparently the royal family only use once a year, maybe they should consider converting it to homeless accommodation as that seems in high demand.  We spend a fair bit of time wandering through the streets and canals enjoying the sights and scenery.  We stop for lunch at a Dutch Pancake Shop and head back out again.  We go past the outside of Anne Frank's House which I think she would be surprised at today – it is just a huge money spinner and you do doubt what is left of the original building.  We managed to make our way through the piles of tourists, sand (due to roadworks) and cyclists we found a cafe in the sun for a refreshing cuppa.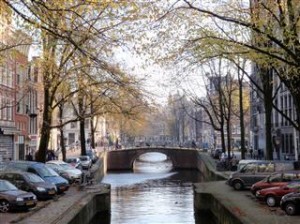 This afternoon we walk through the Vondelpark which was packed and headed towards the Van Gogh Museum (EUR14).  This is on my must do itinerary, but seeing the queue even I faltered, but encouraged by Geoff and Scott we stuck it out (yes I know, usually Scott takes the first hint of my weakness for queues and bolts).  This museum houses approximately 200 of his paintings as well as a huge collection of drawings and also some nice works by his contemporaries, this allows you to see how his work evolved during his extremely short career (approx 10 years).  The exhibition space is stark and contemporary so does not distract from this work.  As the paintings are in chronological order you can see how he is changing and can almost feel his mounting inner pain.
Once we get outside the sun is almost setting, so have a short break back in the park before deciding to have a few drinks, something to eat and head back to Vinnie.  Unfortunately I know I peaked early with my one too many drinks last night and it is coming back to haunt me now, god must be getting old, two late nights in a row and I am knackered, well actually one late night!  We wander back through the Red Light District which is just as busy and the women are just as scary, however, what is more scary is the roadworks which have a vertical drop into the canal, even I nearly walked in – we wondered how many people they have to fish out during the night, of course a bit of tape or some fencing would help!  We stop at a couple of pubs for the boys to have some of the local beers and then settle on a Thai restaurant for dinner, strategically placed next door to a traditional coffee shop, which the boys thought smelt very potty!  According to the tourist guides the drug trade has been restricted, but with the amount of drugs available and the smoking of it everywhere, can't see how that is being managed.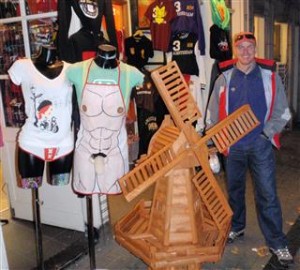 The most interesting thing is the bicycle culture.  There are reckoned to be anywhere from 600,000 and up bikes in the city and they cover every spare inch of pavement, in fact they are given more road space than cars and it is easy to take your bikes everywhere.  I wish Perth would get more into the swing of things.  Oh and the bikes aren't the super expensive Tour de France bikes with everyone kitted out in the latest lycra, the most popular bikes are one-speed city bikes with panniers and baskets which some people have really customised with flowers, ribbons etc.  A relatively early night with the boys listening to some music stuff and me reading.
Up not too early and it is as cold as usual.  We are spending the day here at the campsite doing washing and emails etc before we start the migration back towards Dordogne in France.
14 November 2011 – Sint Truiden, Belgium
On the road again.  We leave foggy Amsterdam and drive slowly down through Holland towards Maastricht.  We can't find any info on motorhome facilities but the town sounds interesting, so we plug it into the TomTom and head off.  The drive is not the most scintillating and we are soon in Maastricht where we find a parking spot and walk into the city centre.  Maastricht was founded in 50bc but I doubt whether there is much left from that period.  We head into the Vrijthof (the city square) which is vast and surrounded on three sides by restaurants etc and on the fourth side by the Romanesque Sint-Servas Church and the Gothic Sint-Jan's with its soaring red belfry.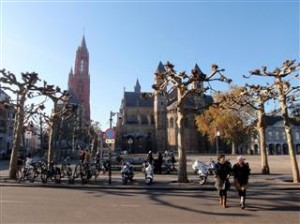 Maastricht was also the home of the real life d'Artagnan (from Musketeers fame).  We have lunch at a local cafe sitting in the sun under a heater and watching the world go by.  The TIC isn't far so we head off and get a map and when we ask the assistant about motorhome parking she says there is none, so we give up on the few remaining sights we wanted to see and decide to head to another town instead who seems to have worked out that people with a motorhome have money and want to spend it in the local town.  We arrive in Sint Truiden at the free Aire de camping and walk into the small town centre – it isn't very big, but there are plenty of bars, restaurants, shops etc.  There is even an Australian Ice-cream shop!
15 November 2011 – Tournai, Belgium
We are leaving Holland and heading down to Napoleon's last battle site at Waterloo.  The journey is awesome (sarcastically) with almost zero visibility and it is cold and I mean cold.
Waterloo:  Scott and I both thought that Waterloo was in France, so this is a surprise for us, obviously high school geography and history didn't sink in.  Waterloo is where French emperor Napoleon Bonaparte met final defeat on 18 June 1815 and the battle ground is made up of rolling farmland.  To survey the battlefield, climb the 226 steps to the top of the nearby Butte du Lion (Lion Mound) (EUR6), a conical hill surmounted by a bronze lion—it takes an active imagination to fill the peaceful farmland with slashing cavalry charges, thundering artillery, and 200,000 colourfully uniformed, struggling soldiers.  We visited the 360-degree Panoramic Mural (included in the ticket) after climbing up to the Butte du Lion.  The panoramic features the massed French cavalry charge led by Marshal Ney.  As the weather didn't look like it was improving we decided to head towards the town of Tournai.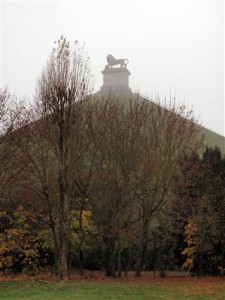 Tournai:  which is Belgium's second-oldest town (after Tongeren) and also the first capital of the kingdom of France. The Aire is not bad, all the facilities and close to town – best of all, it is free.  The area is due for an upgrade soon and will include CCTV; the one thing to remember is that drinking water is free but only in non-frost periods.  There are only two other motorhomes here, but it is winter and the number of people travelling has decreased dramatically.  During medieval and Renaissance times, it had a position of prominence as a European ecclesiastical centre. Its importance in earlier centuries was forgotten until 1653, when a workman discovered the tomb of Childeric, king of the Franks, whose son, Clovis, founded the Merovingian dynasty that ruled for nearly 3 centuries. This led to the discovery that Tournai's predecessor, a Roman settlement known as Tornacum, was the first capital of the Frankish empire. We walked through the town and it must be noted it is a giant building site with works everywhere.  We subsequently found out that Tournai is a Tour de France town for 2012 and wonder if the works are to pretty the town up before then.  The architecture that isn't covered up in scaffolding is interesting and we wandered down to the Belfry dates from the late 1100s, making it Belgium's oldest.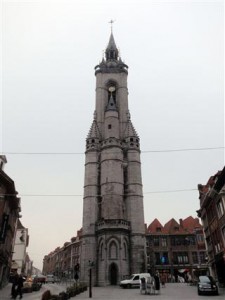 Cathédrale Notre-Dame is a magnificent five-towered cathedral which was completed in the late 1100s and is currently closed for a total renovation, although the sign did state it would be finished in 2016.  We stopped in at a little Belgian Beer Bar (Charles Quint) for a beer and wine, but Scott ended up with a Stella Artois, so we moved on to another bar on the way back to the Aire which was lovely and Scott tried another couple of different monastic dark ales, I think he is a convert, although the British ales still are his favourite on this trip.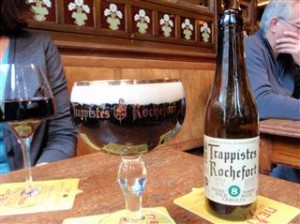 16 November 2011 – Hans-Sur-Lesse, Belgium
Another rambling drive today going from one side of Belgium to the other.
Namur:  an old riverside town at the confluence of the Meuse and Sambre rivers.  We are coming here to visit the Citadelle which overlooks the town.  A fortification has stood atop this bluff since pre-Roman times.  There is plenty of parking here and you get a great view of the rivers and the city below.  So we sit and have lunch in the sun and enjoy watching the boats ply their trade up and down the canals.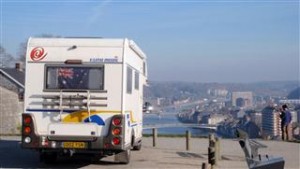 Abbaie de Maredsous (Maredsous Abbey):  The twin towers of the neo-Gothic Benedictine abbey stand out clearly above the rugged, forested countryside. It is famed for its own beer, cheese, and bread, but we only bought some of the locally produced beer.  In summer this would be a fantastic place to visit for a picnic and a walk as there are loads of things to see and do. The abbey's third abbot, Dom Columba Marmion of Dublin, appointed in 1909, was beatified by Pope John Paul II in 2000.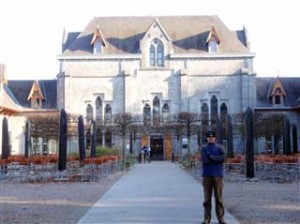 Hans-Sur-Lesse:  This village sited on a scenic stretch of the Lesse River has an Aire which is EUR7.50 which includes water and power, however as nobody was there to pay and nobody came to collect the money it became free.  We parked up and walked into the town centre which looks like it would be a lively place in the summer.  We found a cafe/bar and Scott tried out a variety of beers and we had to partake in the frites which are everywhere and were excellent.  So suitably warmed up and full we head back to Vinnie and watch a movie.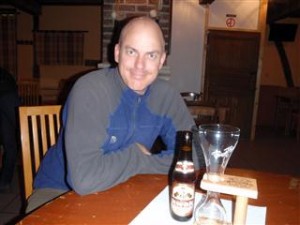 17 November 2011 – Dudelange, Luxembourg
Today we are driving through the Ardennes and along some of the battle fields that were intensely fought in WWII.  The terrain is much wooded and as you approach into La Roche-En-Ardenne you can only imagine what it would have been like in the winter of 1944-1945.  The town itself is quite lovely with lots to see and do.  We don't stop – today is probably the coldest day we have come across, there is even ice on the ground, so unless we really really really have to get out of Vinnie and the heating I will do my photography from inside. 
Bastogne:  This is the site of Battle of the Bulge where US troops fought to hold the strategic town.  We stopped at the Mardasson Memorial which is a huge tribute to the US from the Belgium people and quite moving.  Currently there are a lot of groundwork's going on to make the centre more interpretive and informative.  We thought we had parked under a sprinkler but realised it was all the ice melting from the trees above.  We so love European autumn, it is actually getting colder than in Tibet at winter which is saying something.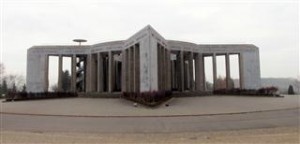 Dudelange, Luxembourg:  We are driving into Luxembourg to spend the night at an Aire in Dudelange which is free and fully serviced.  We know we have arrived in Luxembourg when the price of petrol drops to about EUR1.20 per litre which is about 20-30 cents per litre cheaper than Belgium etc.  On arrival we locked Vinnie and walked into the town centre as we need to find a bank.  Fully cashed up we found a little Italian cafe and had a huge meal before wandering back through town.  It is a nice town, but what surprised us was that you can smoke inside cafes, pubs etc – maybe because it is so cold outside.  Because of that we couldn't be bothered to sit in a pub and bought some wine to take back to the campsite.  As we were enjoying our wine the Aire started to fill up and soon our side was full with four large motorhomes – so we aren't the only people travelling, yeah.  Except so far nobody is from the UK and language is a problem.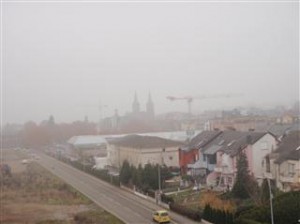 18 November 2011 – Trier, Germany
Scott and I both woke up this morning with colds, obviously the weather has got to us and the visibility here where we are is non-existent, so we are heading to Germany for one last visit before hitting our remaining sites in France.  We can't believe how much the time is flying by and we need to have Vinnie back in the UK and get organised for our flight home.
Trier, Germany:  We find our Aire which is spacious and even has showers, drop Vinnie off as usual.  The good thing with the Aires is that as there are other fancier motorhomes we feel safe and they usually have some form of security etc.  We walk into town which turned out to be further than we thought and considering we aren't feeling very well it was a long, cold walk.  There is a Roman gate here (Porto Negro) which is meant to be the largest in Europe.  The gate is in good condition and it is huge, guarding one of the entrances to the town.  There is a large faire being set up for Christmas, groan, thought we were bypassing all that nonsense.  We wander around and as we aren't feeling too flash, decide to get some hot chips and a cake for later and trudge back to Vinnie and spend the afternoon being totally unsociable and reading etc.