18 October 2011:  Fattoria La Rondine (Fattore Amico)
Back in London I collected some new books for Europe including the Fattore Amico book which is based on France passions so we decide to give this a go.  It gives you access to local producers who let you stay on their property in your motorhome for free.  So after deciphering the GPS coordinates we finally locate a local property and pull up near the vineyard.  The owners are fantastic and speak more English than we speak Italian and we have a wander around and enjoy some serenity.
19 October 2011:  Venice, Italy
We are heading to Venice today via Imola (used to be an F1 race track) and Maranello.  Imola wasn't that exciting, and also not open for Vinnie to do a lap, so we continued on to Museo Ferrari at Maranello.  Strangely we thought this would be a quiet town, however as we got nearer the number of cars and tour buses soon let you know the museum is a huge tourist attraction, that and the number of Ferrari dealerships.  We find a spot for Vinnie near the entrance to the Ferrari race track and head into the Museo Ferrari (EUR13 each) where Scott proceeds to spend the next few hours in heaven leaving his drool marks from one end of the museum to another.  Apparently if the choice was between me and a Ferrari I may miss out.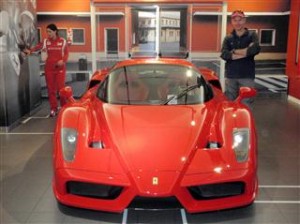 We then jump on the motorway to Venice.  The first parking spot we find, I totally read the pay instructions wrong and after we realised it was going to cost EUR37 (Parcheggio Al Tronchetto), we moved to another spot a short bus-ride away for EUR10 per day (Parco di San Guiliano).  Parcheggio Al Tronchetto was however at the port and there were some huge cruise boats in (that will make my Dad drool).  Once we park the van at our new spot we head off to the bus and into Venezia.    There is no motorised traffic in Venezia, so the bus drops you at a bus station and you walk from there.  We wander through the streets, bridges over canals etc having to resort to Google maps as the street signs make no sense whatsoever. 
We can't work out why anybody would build a city that is so   libel to the environment but the engineering feat is impressive.  Venice is built on 117 small islands that are connected via bridges and canals making the only way to navigate Venice on foot or via boat. 
The Grand Canal:   runs from the Piazzale Roma to San Marco and although you can catch a vaporetto or gondola we wandered through the streets passing so many beautiful (and crumbling) palazzos, churches, bridges and various other gorgeous sites it is a impressive city.  Venice starred in four different James Bond films, so it can't be too bad.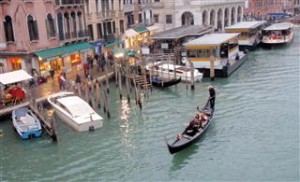 Ponte di Rialto:  lets you get fantastic photos of the canals, gondolas and other seafaring boats.  This is a large bridge across the Grand Canal and is lined with boutiques and the obligatory tourists.  Up until the 19th century it was the only bridge across the Grand Canal, but that has now changed.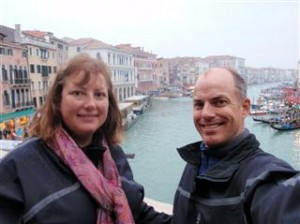 Ponte dei Sospiri (Bridge of Sighs):  One of my must see items was the Bridge of Sighs which we found out is currently undergoing renovation, restoration or whatever and is totally obscured.  Not happy Jan.  The Bridge of Sighs connects the Ducal Palace with the grim Palazzo delle Prigioni (Prisons). There is mystery around the name of the bridge with some saying it is the prisoners' final breath of resignation upon viewing the outside world one last time before being locked in their fetid cells alternatively some attribute the name to Casanova, who, following his arrest in 1755 (he was accused of being a Freemason and spreading antireligious propaganda), crossed this very bridge.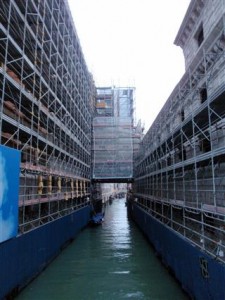 By now the weather is closing in and getting dark, so we decide to head back to Vinnie, stopping for a drink along the way at a lovely little bar where the prices were about a quarter of the price of Florence. 
We awoke the next morning to gales and a massive rainstorm, but decided to suck it up and rugged up and headed back into Venice.  This was an awesome choice as we were both soon totally soaked and traipsing through inches of puddles all morning was hilarious.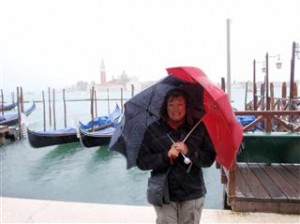 Tragedy soon struck with the demise of Scott's umbrella but luckily he was wearing his North Face waterproof jacket which only lets water into the pockets.  We re-traced out steps from the previous day and although the weather was horrible, Venice is still a magical city.

I was keen to buy a present for my sister as I missed her birthday so we trawled the millions of Murano artisans before finally picking a small shop with a lovely shopkeeper and buying two pieces.
Piazza San Marco:  is full of cafes, well it would be on a nice sunny day, today however there aren't that many customers around.  The square is surrounded by porticos and of course the stunning view of the Basilica di San Marco onion domes (very eastern).  When you step back out into the Piazza you can now see some of the history that surroundings the Basilica.  The 500-year-old Torre dell'Orologio (Clock Tower) stands to your right; to your left is the Campanile (Bell Tower), and beyond, the glistening waters of the open lagoon and Palladio's Chiesa di San Giorgio on its own island and is a photographer's dream on any day except today.  We have left the Camapanile again without travelling to the top due to the weather.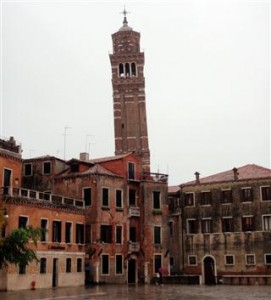 Basilica di San Marco:  The Basilica is free to enter, however each part seemed to cost something, so unsure why they don't have an overall ticket to cover all the parts of the Basilica.  This is an awesome site; every part of the church seems to be covered in mosaics, from gold ones above to beautiful tiles underneath.  The church's greatest treasure is the magnificent altarpiece known as the Pala d'Oro (Golden Altarpiece), a Gothic masterpiece encrusted with close to 2,000 precious gems and 255 enamelled panels. It was created as early as the 10th century, and embellished by master Venetian and Byzantine artisans between the 12th and 14th centuries. It is located behind the main altar, whose green marble canopy on alabaster columns covers the tomb of St. Mark.  You can't take photos inside and even if you wanted to sneak them in, it is so dark they wouldn't come out without a huge flash which may give you away.
We head back to Vinnie where we change clothes and have something warm to eat in an effort to thaw out and defrost for the drive this afternoon. 
20 October 2011:  Soave, Italy
We didn't make it far, seeing a castle from the motorway we do a quick detour and find a nice Aire (free including electricity) and walk into the historic town centre which is surrounded by crenulated walls and looks up to a castle via small streets.  Soave is famous for its white wine and Soave town is also the centre for Veneto's wine consortium so it also deals in Valpolicella.  The town walls are encircled with 24 watchtowers with some being in very good condition.  The Castello itself is a short walk up from town and you enter it through a drawbridge.  The Castello has been resorted but nicely done.  Back at the Aire we met a New Zealand couple travelling through Europe in a massive motorhome that they are also shipping back to NZ to sell and they gave up some tips for Vienna and Prague.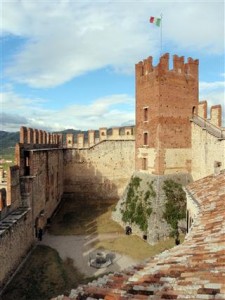 21 October 2011:  Novate Mezzola, Italy
Up relatively early we are heading to Lake Como (and hopefully to see George Clooney) and then if we can make it to an Aire at the top of Lake Como.  We head down the Motorway which turns out to be totally uninspiring and bypass Milan before heading up into the mountains.
Como:  is situated on Lake Como which is ringed by the Alps and is gorgeous with views over the rest of the lake.  This place exudes money and exclusivity.  For those nerds, Lake Como served as a backdrop for the romantic scenes in Star Wars II: Attack of the Clones—one of the very few settings in the film that was not created entirely by CGI computer programs.  We had thought of doing a boat trip, but parking is hard and let's face it, I hate boat trips at the best of time, so instead we decide to take the scenic drive up to Bellagio.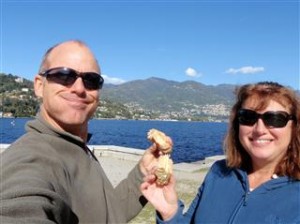 Well that turned out to be a fantastic idea initially, except then the road narrowed to being single lane for two lanes of traffic.  This was an exhausting and nerve racking drive and in my defence (it was my idea initially) I did give Scott ample opportunity to turn round, but he kept going forward.  Eventually we pull up into Bellagio.  Now this is by far the most stunning of towns we have seen.  It is picture perfect and is also the spot for catching a ferry.  We had thought about this but had also forgotten to find out whether we could actually get a ferry for the motorhome.  Luck would have it we could and we decided to have a coffee and a walk around before putting Vinnie onto the ferry (Ferry EUR16.30) to Varenna which would save us a considerable drive.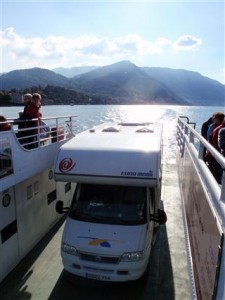 There were only two vehicles on the small ferry and we soon pushed off for the short ride.  It was a lovely view, although I elected to sit in the motorhome with the seatbelt done up, not sure why and Scott wandered all over the ferry.  On arriving in Varenna, again another beautiful town, we took in our surroundings and hit the road for an Aire in Colico which is right on the edge of Lake Como.  On arriving at the Aire we find that you can't get access to it until 6pm, so we do some shopping and then head to the Aire at Novate Mezzola.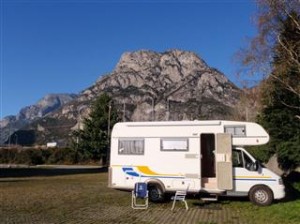 This was fantastic, we are right on the edge of the lake, have the place all to ourselves (another motorhome pulls in much later) and we get to sit in the sun and enjoy a sunset with a glass of wine.  I have to say this must be one of the nicest camp spots we have found.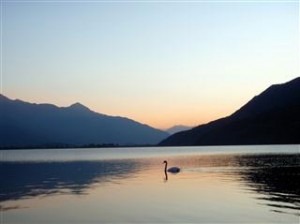 22 October 2011:  Casale Monferrato, Italy
We caught up with our motorhome neighbour which is currently waiting for his wife to arrive from England.  Dave and his wife are looking for a house in the area and have been here so often know all the ins and outs.  I have to say if I was looking for a place in Italy, this area would have to be near the top of the list.
As we are soon leaving Italy we decide to do a small road trip to the Asti/Alba wine region which is in the Piedmont area and have elected to stop at a Fattore Amico property in San Giorgio Monferrato (Sergio Coppo Vini).  We arrive and score a parking spot at the top of the property and then go down and do some wine tasting and purchase three bottles for EUR10 and they hosts give us a bottle as a gift.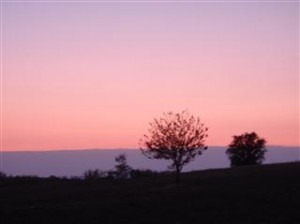 The family can't do enough to help us and we also walk away with a pile of pomegranates.  We spend the afternoon watching the hillsides and enjoying the quiet.  This style of accommodation is great as you get to taste local produce, meet local people and see a part of the countryside that is off the beaten track. 
This area is not only famous for its wine (including the Barbera del Monferrato) also produced author Umberto Eco (of Name of the Rose fame).
 23 October 2011:  Cherasco, Italy
I had made a note earlier in the trip about a truffle and wine festival in Alba, so we are heading that way today via Asti.  As the drive progresses we note that considering this area is famous for its wine, there is a distinct lack of grapes. 
Asti:  produces the sparkling white Asti Spumante wine made from white Muscat grapes, while Alba concocts Barolo and Barbaresco, both towns are also famous for their white and black truffles.  There are a huge amount of cars and people in Asti, but we find a parking spot and head into the mainly closed town where only the town centre has a sprinkling of people trawling through an antiques market.  There isn't much to hold us here, so we decide to continue heading through hoping to find somewhere to park or some scenery to inspire us.
Alba:  is meant to be one of the gastronomic highlights of Italy (it was one of the first towns in the Slow Food movement).  Today we luck in and find a parking spot within walking distance of the annual truffle fair.  The town is an enjoyable walk, helped today with wine and food tasting.  I still can't see the fascination of spending hundreds of Euros on truffles, but I seem to be amongst the few as there are stall after stall selling this produced.  In the Piazza there is some sort of medieval battle of the bands going on, with drums and banners which we watch for a while.  The narrow streets are lined with boutiques, bars and restaurants and are doing a roaring trade today.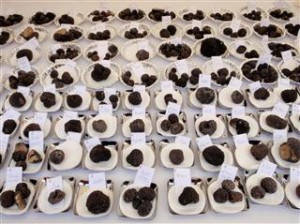 Cherasco:  Located nearby we decide to end the day at Cherasco which is the home of the lumache (snail).  We park in the local Aire and head back into the town centre which is lovely but very very closed.  It is Sunday after all.  We find a map from the tourist office (smartly leaves tourist maps outside when it is closed) and walk through the old historic centre.  We did find a small bar open for a glass of vino and we also purchased some chocolates which the town is famous for before heading back to the warmth of Vinnie with no snails.  Although Scott did have a fair plate of snails in Marrakech.
The nights are definitely getting very chilly.
24 October 2011:  Tortona, Italy
We are heading through Alessandria and then onto Costa Vescovato to a Coop to spend the night.
Alessandria:  was sort of mid-way to our destination so we thought we would stop there for a walk and also some lunch.  As we arrived it started to rain and was freezing.  It is Monday so we expected the shops to be open, but after finding the town deserted soon realised they didn't open until 4pm.  Luckily we found a nice little restaurant that served fresh local produce as well as the thickest hot chocolate you can imagine, so we whiled away a few hours here before heading back out into the closed and cold town.
Coop Valli Unite:  This is in the Fattore Amico book so we plug in the coordinates which are wrong (as we soon find out), we try and navigate from the rest of the book and along with some random street signs we find the Coop.  This is a commune where people work producing a range of local products (biological, wine, cheese, salami and has a restaurant).  We meet the owner who shows us where the park and gives us a tour of the compound and we stock up on cheese, wine and bread from the shop after having a lovely cup of Italian coffee in the restaurant.  The ideals of the group are fantastic.  What they don't produce they barter or swap with other like minded coops in the area.  This style of living really appeals to me and is as far removed from consumeristic lifestyles idealised by those at home it makes a welcome change.  We head back to Vinnie and take a look at a hay bale house under construction (I would love one of these) and soon Scott makes a friend of the local farm cat and they are playing a chasing game until it gets darker and colder.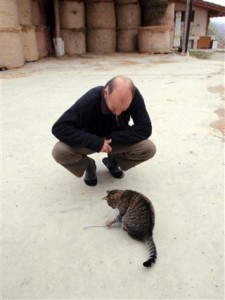 Scott comes inside and the poor cat sits outside for a while playing with a piece of string by itself until it gives up.  Of course it is now starting to rain and we can no longer see the views of the valley around up.