27 November 2011 – Besancon, France
We drive towards Besancon today with the landscape changing from vineyards to more agricultural lands and the scenery as usual for us recently shrouded in fog.  We avoid the motorways (they can add up in costs here in France) plus you get to see more of the countryside.
On arriving in Besancon we find our Aire de camping which is just on the river with a range of services.  We rug up and head for a walk into town.  Besancon is famous as the birthplace of Victor Huge and the Lumiere Brothers.  It was also a Gallo-Roman city, so we head up to the Citadelle de Besancon getting there just after 4pm.  This is a relatively new building as it was constructed in the late 17th century and the walk up is considerably more interesting than going into the Citadelle to see an insectariums, aquarium, noctarium and parc zoologique.  On starting the walk up you pass through the Porte Noire which is the old Roman entrance to the city and has some beautiful carvings which are sadly deteriorated at the moment.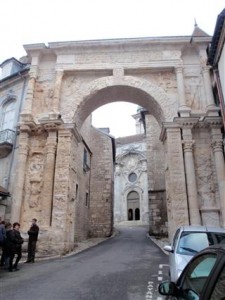 Just up from the Porte Noire is the Cathedrale St-Jean and the Horloge Astronomique which is a small astronomical clock compared to those we have seen in other cities, however the church is simply furnished and very serene.
Besancon is in full Christmas celebration swing with lots of stalls set up selling traditional Christmas items such as mulled wine etc.  We stop at a local bar for a couple of glasses of wine to wait for the Christmas lights to be turned on and then wander slowly back through the streets to Vinnie.
28 November 2011 – La Bourboule, France
We wake up this morning to find we have been blocked in the service point has been turned off so they can lop some trees – well lopping is an understatement, they are being totally removed to make way for a tramline being implemented in the near future.  So we eventually find the other way out of the Aires de camping and start the long drive to La Bourboule.  We don't plan on stopping anywhere until we reach La Bourboule which is about 6-7 hour drive, so a relatively boring day in all.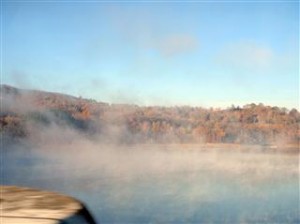 On reaching La Bourboule it is a fantastic town, beautifully located in the Auvergne region of central France it is a spa town and a winter ski resort.  Unfortunately we are there just before the ski season.  It is laid out around the river and surrounded by mountains and views.  On the main streets are lots of bars and cafes and the architecture has been preserved.  All in all a lovely stop for the night.
29 November 2011 – Les Eyzies-de-Tayac-Sireuil
Not such a long drive today as our main point is Sarlat-la-Caneda.  However along the way we stop at one of our favourite villages in France – Beaulieu-Sur-Dordogne which we visited in summer.  This town still captures our interest and although the pub we went to last time is closed, we found another restaurant/bar nearby that did gorgeous food as great prices.  Obviously it must be good as it was full of locals.  After a lovely lunch we jumped back in Vinnie and soon arrived in Sarlat-la-Caneda.  The Aires de camping isn't fantastic and is on a main road and sloping, but we park up and head into the main town.  This is mean to be one of the country's best-preserved architectural villages, however it just didn't grab us and we were fairly disappointed as a whole.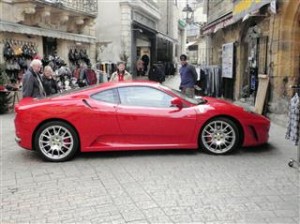 We wandered around the medieval part of town and stopped at the Cathedrale St-Sacerdos and walked through the medieval historic quarter.  There just wasn't much to keep our interest so we headed back to Vinnie and decided to head towards Les Eyzies-de-Tayac-Sireuil which we visited in summer and wanted to return to anyway.  We arrived there just as it was getting dark and the Aires de camping is in a beautiful spot just down on the river and surrounded by trees and on a nice flat spot.  There is only one other motorhome parked there, so it was also lovely and quiet and we had a great view of the cliffs surrounding the town.  We headed to the local pub for a quick drink to relax after what turned out to be a long day of driving.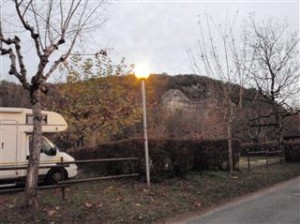 30 November-7 December 2011 – Coutancie, France
We get up for a wander in town and some fresh bread from the bakery before deciding to head to the house at Coutancie where we hope to sort out the sale of Vinnie and get organised for home.  Scary to think it is only three Sundays of holidays to go.
We arrive in Coutancie late afternoon and crash.  Our plans for the next few days are to clean Vinnie from top to bottom and do some day trips around the area, or of course we may just sit around doing nothing and have a little break from driving. 
2 December – We finally arranged the sale of Vinnie and have now booked our ferry journey back to the UK on the 8 December.  We decide to head into Riberac for a glass of wine to celebrate.  Unfortunately it wasn't a very inspiring place and we had an insipid lunch at one of the only places open.  I hope we get one more good meal in before we leave France.
3 December 2011 – my cousin and his partner arrive from the UK to do some work on the house.  We have a homecooked meal (go Scott and his vegetarian lasagne) and due to my almost migraine I watched the boys get absolutely plastered.
4 December 2011 – the weather has changed and it is windy and misty, and as my headache isn't that much better we stay in and can't be bothered to go anywhere.  We do however do the final bits on Vinnie and almost ready to head off for our final drive.