19 November 2011 – Royes, France
A freezing night as yet again the alarms in the van went off, wish we could turn them off, but figure that may be dangerous it is bloody annoying though and as Scott has developed the ability to not hear anything I have to get up and turn it off.
Today we are driving from Germany through Luxembourg and Belgium to Villers-Bretonneux in France.  Scott still gets excited we can drive through whole countries in less than a morning (four of them to be exact).  Of course at this stage we can hardly see a few metres in from the van due to the fog, so the only sign we know we are going in the right direction is the chance of country signs and the price of fuel going up astronomically.  Luckily we filled up in Luxembourg which should last a few days.  We are finally back in France after what feels like an eternity of travelling and start the drive (not using toll roads) to Villers-Bretonneux. 
Villers-Bretonneux:  The drive here is via several other war memorials, but this one stands out from them by miles.  Strangely enough there is no actual parking next to the memorial so we end up parking right out front, soon copied by several other cars, I wonder what they do when there is special events?  The memorial here was designed by Edward Lutyens and was the last big WWI memorial built.  It was subsequently heavily damaged in WWII and refurbished although the scars are still there which adds to the poignancy.  It is a sad place to think that life is so cheap so many had to die and this isn't just for Australians there are a substantial amount of graves for Canadians and South Africans and so many to the unknown soldier who's remains have never been identified.  The grounds are immaculate and with fog hanging over the surrounding valleys you wonder was all this death worth the fight!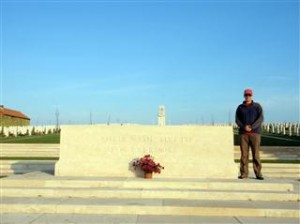 Royes:  We finally found a relatively nearby Aire de Camping Car in a car park in the small city centre and via a huge amount of tiny one way streets we finally got there.  There doesn't appear to be any parking to go with the service point, so park up near the school and as it is Sunday tomorrow, should be quiet.  What wasn't quite true however, as there was a group of hooded youths who decided that playing with their soccer ball next to the van would be fun.  As the night progressed they moved away a bit and after the police confiscated their football they decided to beat each other up and look generally like unsavoury characters.  I stayed on guard duty whilst Scott slept! 
20-21 November 2011 – Reims, France
After a crappy night's sleep for me – I mean who gets up to walk their dogs at 5:30am and then proceed to chat with other people next to a motorhome.  Anyway the morning brightened up, well we aren't sure if it did as the fog today was even worse than yesterday and to top it off the Aire was broken and we couldn't top up our water and hence I couldn't have a hot shower, could this day get any worse.  We are driving through to Reims today which is at the start of the champagne region and also houses a Cathedral and a Basilique. 
Reims:  We arrive at the supposed location of the Aires de Camping Car to find nothing, so have to drive a million miles (no exaggeration) around the block to see if we missed it.  We find the service point so park up Vinnie and go for a walk around the area as the Camperstop book stays there is parking for 8 motorhomes.  We finally find other motorhomes and then locate a Hostel who hands out the passcode for the boom gate, so we top up on free water etc and park Vinnie in a free spot right in the centre for 48 hours free.  There are several other campers here, so we leave Vinnie in the sun hoping it would warm up and walk into Reims.  Reims (pronounced "rahns"), an ancient Roman city, was important when Caesar conquered Gaul. French kings came here to be crowned.
The Cathedral Notre Dame was originally build in 1211 and was famous for hosting the coronation of Charles VII with Joan of Arc in 1429.  It has been seriously damaged in WWI and with the help of the Rockefeller family has been heavily restored; luckily it escaped relatively unharmed during WWII.  Inside the remaining stained glass windows are breathtaking, but I am not as sure about the modern interpretations as they look slightly out of place in the gothic architecture.  Even better as this cathedral is one of the few that are free.  Built on the site of an earlier church that burned down in 1211, the resultant cathedral was intended as a place where French Kings would be anointed.  St-Remi the bishop of Reims baptized the King of the Franks (Clovis) here in AD496.  As such, every French monarch since a.d. 496 was crowned at Reims, including Charles VII who was escorted there by Joan of Arc in 1429.  Now it seems to have a place in the Franco-Germany reconciliation process that has been in place to overcome animosity after the war.  Pope John-Paul II visited the cathedral in 1996 on the 1500th anniversary of Clovis's baptism.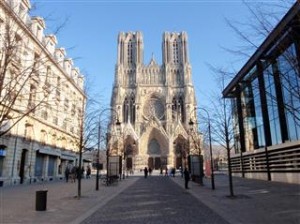 We leave the Cathedral and head towards the main pedestrian mall.  It is Sunday and as such most things are shut so we opt instead to sit in the sun and have some wine and pizza.  As the sun is out most of the restaurants are busy and doing a booming trade, however, they don't seem very organised and almost disappointed when most customer come and they have to set the table, take orders and deliver food – honestly customers just get in the way don't they!
Eventually back at Vinnie we have an early night as it is freezing and as usual the alarms go off, getting sick of this and starting to fantasise about a warm holiday destination.
Today we are off to the Basilique St-Remi and maybe some champagne tasting.  We approach the Basilique St-Remi and I find this much more interesting that yesterday's Cathedral.  It is huge and the Romanesque architecture from the mid-11th century is just beautiful.  Some Gothic features were added from the 12th century, but the history here is fantastic.  The church dates from 1007 and holds the tomb of St. Remi.  The Nave is Romanesque which leaves to a beautiful choral area full of flamboyant style.  Paying the EUR2 to turn the lights on was EUR2 well spent as the inside of the Basilique lit up and highlighted the vaulted ceilings.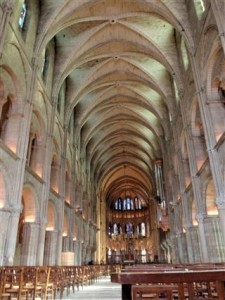 Suitably impressed we then decided to visit the Taittinger Champagne House.  There are many champagne cellars to choose from i.e. Pommery, Mumm and Veuve Cliquot, but we elect Taittinger due to the history of its cellars.  So we booked in and headed out for a coffee as we had 40 minutes to kill.
EUR14 secures you a spot on the English speaking tour and we have a small presentation about the history of the home of Taittinger before being led down to the underground cellars and this is where it got interesting.  As well as 19m bottles of Champagne the vaults were originally built in the 4th century by the Romans who excavated the area for stone.  It was then excavated by the 13th century Benedictine monks and has today been restored as much as possible for the champagne house.  Many of the champagne cellars of Reims extend for miles through chalky deposits.  During the German siege of 1914 and throughout the war, people lived and even published a daily paper in them.  The caves that are 30m (98 ft.) deep, where the temperature is a constant 50°F (10°C).  Taittinger is a grand marquee of French champagne, one of the few still controlled by members of the family that founded it (in 1930). The tour was informative, interesting and just steeped in history.  We then finished with a glass of the Brut Reserve champagne.  I am definitely a fan of Taittinger for the dry style of champagne, but at EUR110 per bottle, wasn't keen enough to buy a bottle, however, I kept the tasting glass.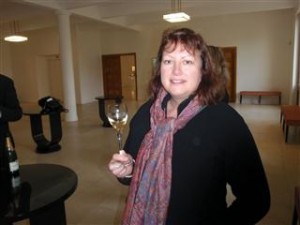 Off to lunch at a local restaurant where the food was a little bit disappointing, but I tried the champagne here and it was totally different, now I understand the processes behind making the different blends, makes and vintages, it starts to fall into place the differences and I am definitely a fan of the vintage style – which as usual is the most expensive, typical.  We have a wander through the streets of Reims before heading back to Vinnie.  As the sun sets so early now it makes the days of sightseeing shorter as well.
22 November 2011 –Villeneuve Renneville Chivigny, France (Champagne Leclere-Massard – France Passions Stop)
We leave Reims and head towards Epernay via the Montage de Reims Champagne Route which links the two towns via the Parc Natural Regional de la Montagne de Reims.  Scott is keen to actually see some vines as so far it has been much industrialised.
Verzenay:  as soon as you head towards Verzenay the acres and acres of vineyards take up all the visible distance.  We stop at the Phare de Verzenay which is a lighthouse on the hilltop at the eastern edge of the village and head to the top (EUR3 per person) for a view of the surrounding area.  There are no leaves on the vines and they are in the process of cutting them back which appears to be a hugely manual process with people still hand-cutting the vines.  Considering how cold the weather is, I don't understand how they don't freeze.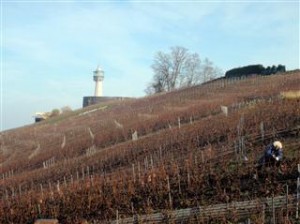 Verzy:  we head just outside Verzy to the Parc Natural Regional de la Montagne de Reims for the hour round walk to see the mutant beech trees known as Faux de Verzy.  These are interesting and exquisite trees that appear to be all twisted with the branches growing over them like umbrellas.  As there are no leaves you can fully appreciate the gorgeous trunks which are covered in mosses and are gnarled and tortured in appearance.  Interesting that there are signs and the trees are sometimes fenced off, but that of course doesn't stop some people having to climb over to take a photo!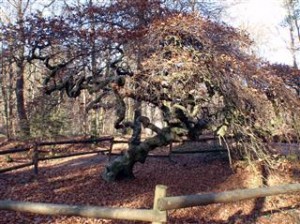 Epernay:  as soon you are approach Epernay you are reminded you are now in the capital of the champagne region and you can instantly start ticking off all the big names i.e. Moet et Chandon, Mercier, Pol Roger etc.  We find the Aires de camping spot but it is full and the other parking has a maximum of one hour, so we leave Vinnie near the bus/motorhome spot and hope nobody complains and head into the town centre.  Although Epernay it only has one-sixth Reims's population, it produces nearly as much champagne, with an estimated 322km (200 miles) or more of cellars and tunnels.  These caves are vast vaults cut into the chalk rock on which the town is built.  Walking up Epernay's main boulevards and in particular the avenue de Champagne it radiates wealth, in one driveway there were four Rolls Royce, a Ferrari and several other cars that I am sure Scott would trade me in for.  Invading armies have destroyed or burned Epernay nearly two dozen times and few of its buildings have survived.  We find the huge offices of Moet & Chandon to do a tasting, but the next tasting isn't until late so we book in for tomorrow instead and walk around the town which has a lot of wine shops (no surprise there) but also a huge amount of landscaping and renovation of the public squares.  We head back to Vinnie after stopping off at Carrefour City for a few snacks and drive the 20 minutes to Champagne Leclere-Massard Winery in Villeneuve Renneville Chivigny (page 321).  We are now using our France Passions book which does not have gps coordinates only a very brief description of how to get places, but luckily this France Passions stop has got up signs etc and we pull into a lovely little Aire with everything you need including picnic tables etc and buy a bottle of champagne to enjoy in the setting sun before it becomes freezing.
23 November 2011 – Cousancelles, France (Les Vergers de Cousancelles – France Passions Stop)
After a fantastic night's sleep (we have worked out if you turn off the control panel the alarms don't go off) we head back into Moet et Chandon (EUR15 for the traditionalle tasting and EUR28 for the vintage tasting) for our tour and tasting.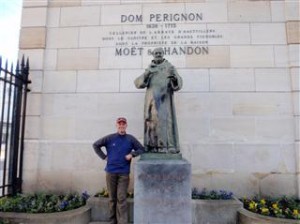 There isn't a huge group and we are lead through the history of the Champagne House (started by Jean-Remy Moet) and then head down into the kilometres and kilometres of tunnels which were warmer and definitely more humid than outside.  The tour is interesting and informative about the history of the house, although I think its early success was due to the patronage of school friend to Jean-Remy Moet (Napoleon), without that things may have been a bit different.  At the end of the tour I had elected to do the vintage tasting and Scott was going to do the ordinary tasting and I have to say you can definitely taste the difference with the Vintage being so much smoother and lighter, very similar to Taittinger yesterday.  I wasn't so keen on the vintage Rose, but that's only because I was getting a tad picky.  As usual I squirreled away the glass for a keepsake.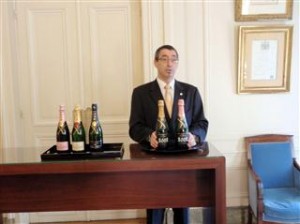 We leave Epernay after a final walk around and head to another France Passions stop just outside of St-Dizier (page 328).  This stop is something different and deals with apple products i.e. cider, fruit and an apple champagne.  Unfortunately they were out of cider and their next bottling won't start until December, so we settle on the Champagne.  The stop isn't as nice as last night, but we have got a spot to enjoy as much sun as possible and it is quiet.
24-25 November 2011 – Strasbourg, France
We are heading to Strasbourg today as it sounds nice and is on another wine trail.  The drive is fairly monotonous mainly due to the fog and you can't see far into the distance, however, we seem to have hit on a small area in France that is big on wind farms, not as big as Spain, but nonetheless I am becoming keener on wind farms as our trip progresses.  We arrive in Strasbourg and have a problem with the GPS mainly due to the fact they have dug up most of the roads and changing things around.  There are also huge gypsy camps here that look like rubbish tips and they seem to be parked in any available carpark and I don't feel very comfortable leaving Vinnie somewhere that isn't secure.  We originally chose an Aire near the Parc du Rhin and when we get there we top up water, change grey water, clean toilet etc.  There are a couple of other campers but it is a long way from town.  It is next to a youth hostel so I grab a map and we notice another Aire at Elsau near the tram, so we drive there.  The lady at the counter at Elsau gives us all the details and we had noticed that you can only park there during the day but Scott checked and she assures us it is 24 hours.  Just as we had changed into a million layers of warm clothes she comes and apologises to say she was wrong and gives us the address of another place to stay.  We decide to head into Strasbourg on the tram anyway (the parking comes with train tickets i.e. park and ride – concept Perth can't get the hang of) and instantly love it.  The trams are fantastic and cheap and whisk you into the centre of town.  They also have grasses down the tracks which softens the development of light rail and provides an almost architecture feel to the system.
Strasbourg:  The capital of Alsace and the site of the Council of Europe, Strasbourg is also home to the European Parliament.  In 1871, Strasbourg was absorbed by Germany and made the capital of the territory of Alsace-Lorraine. It reverted to France in 1918.
Cathédrale Notre-Dame de Strasbourg:  The city's crowning glory is an outstanding example of Gothic architecture, representing a transition from the Romanesque. Construction began in 1176. The pyramidal tower in rose-colored stone was completed in 1439; at 141m (463 ft.), it's the tallest one from medieval times.  Four large counter forts divide the main facade into three vertical parts and two horizontal galleries. The facade is rich in decoration: On the portal of the south transept, the Coronation and Death of the Virgin in one of the two tympanums is the finest such medieval work. In the north transept, see also the facade of the Chapelle St-Laurence, a stunning achievement of the late Gothic German style.  In the south transept stands the Angel Pillar, illustrating the Last Judgment, with angels lowering their trumpets. Not to be outdone the organ here is one of the most decorated and drop dead wow we have seen anywhere.  The astronomical clock was built between 1547 and 1574. It stopped during the Revolution, and from 1838 to 1842 the mechanism was replaced.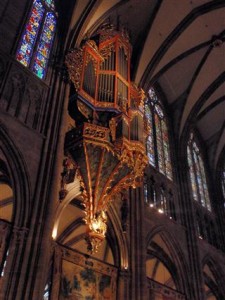 We have a quick wander back through some of the squares where everything has been decorated in Christmas style and as it is now getting extremely cold and dark we head back to Vinnie and move to our new spot at Camping de la Montagne Vert (www.camping-montagne-verte-strasbourg.com) where we check in and try and defrost.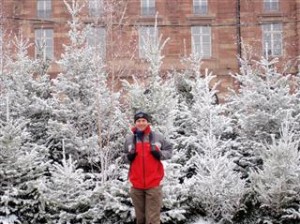 Up earliesh we head back to a nearby tram stop and buy a 24 hour travel as much as you want ticket for EUR4 each.  We head into town getting off near the Barrage Vauban and then going to spend the rest of the day walking through the sights.
Barrage Vauban:  The picture of what this looks like depicts a 17th century bridge but it is currently under renovation and is shrouded in scaffolding, so without using some good imagination it could look like anything really.
Ponts Couvert:  I read that this is described as a covered bridge, but it isn't as there is no top to it, so for me I think of it as a bridge with some 13th century towers at either end which are fairly impressive.
Petite France:  Along the canals and locks is a gorgeous part of Strasbourg that is full of narrow lanes and at the moment lots of Christmas kiosks and decorations.  Originally this area was where tradesman plied their trade in the middle ages – and you can see the paintings on the tanner's houses with the dates.  This area is full of nice looking Alsation restaurants and even a vegetarian restaurant.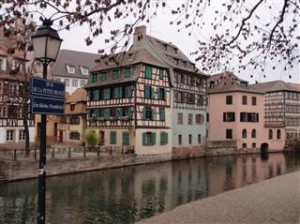 Grand Ile:  steeped in history the lanes are full of vibrant cafes and timbered houses all under the gaze of the cathedral.  Here also is the Maison Kammerzell which is now a restaurant but they have still maintained the ornate carvings and leaded windows.
Palais de Rohan:  This palace south of the cathedral was built from 1732 to 1742 and is meant to be an example of supreme elegance and proportion. Unfortunately it wasn't open and along with the other tourists we sadly wandered off.
We decide to head up to the Parlement Europeen as I have in my head it is going to be a futuristic glass building etc (similar to the development around the Reichstag in Berlin), unfortunately it was a huge disappointment and the area is littered with rubbish and just feels soulless, but I suppose it is full of politicians.  We head back into the main squares and retake some photos of the cathedral as today it is sunnier and you can actually see the top of the spire unlike yesterday.  Next we venture back to Petite France for Scott to have a feed of local Choucroute (sauerkraut) with pork and sausages.  Suitably refreshed we head to the Musee d'Art Moderne and although it is a Modern Art Museum it would seem most of the art dates from the early 20th century.  There is a fairly good variety of artists from Picasso to Kadinsky and also an ArtCafe/WineBar on the top floor where we stop for a drink so that Scott can shake himself awake and complain some more about modern art being crap.
26 November 2011 – Pfaffenheim, France (France Passions Stop)
The drive today follows the Route du Vin between Strasbourg and Colmar following the Vosges foothills with plenty of villages and vineyards to break up the monotony of motorway driving.  We arrive in Obernai which is in full Christmas mode with lots of stalls and roads closed off and of course the GPS always wants to go through the tiny villages where we sometimes just don't fit.  This is a gorgeous town with lots of see and do, but we don't dally too long as Scott is keen to keep moving.  We drive through Ribeauville, Kaysersberg and Ammerschwihr before arriving in Colmar.  What a disappointment, parking for campervans was just on the edge of the main road with no services, so we had a sandwich and decided to keep going.  As we were driving out of Colmar there is a huge assortment of motorhomes spread through the street parking – wonder why they don't put in a purpose built aire.  We head to Pfaffenheim where we find a local vineyard that is part of the France Passions (Domaine Walter & Fills pg 370) and stay there for the night.  However, we do walk through town but it is either siesta or everyone has been abducted as nothing seems open or even inhabited.  Scott has arranged with the family to do a wine tasting at 5pm, yum so looking forward to sweet wine.