Sunday, 28 August 2011:  Sarria
Not many people up this morning when we were busy packing up and heading out of the campsite.  However, the festivities can't have gone on too late as this morning the bbqs and tables etc had been packed up and we hadn't heard a thing.
We are going to drive to Sarria today and follow the La Vuelta course backwards to see how difficult the mountain stage will be.  The drive involves lots of long uphill stretches which in some instances we had Vinnie in first gear going around hairpin bends etc.   Some of the roads weren't fantastic, but I am sure the riders must just zone out.  We make it to Ponferrada where we get out for a leg stretch and visit the tourist information centre for a map and some information on where the Vuelta will be arriving.  We decide to visit the Castle of Ponferrada which was originally started in the 12th century and being updated and changed for the centuries afterwards.  There is a lot of restoration (unsure how much is left of the original) and in some cases demolish happening.  The town is pretty though with lots of cafes/restaurants etc, but we grab some bread and make a sandwich before hitting the road again.  On making it to Sarria we find the Aires de camping car site (free camping), which isn't fantastic, but is located close to the town.  We head into the town centre to find a boulevard which is shaded by trees along the river and sit down at one of the local bars/restaurants and enjoy a nice quite class of wine and for Scott to unwind after the nightmare of a drive.  This has been one of the hardest drives we have done for a while and I am starting to think the La Vuelta is a much more difficult race than the Tour de France. 
Monday, 29 August 2011:  Orense
After a good night's sleep we head to Orense which in the Lonely Planet describes the town as a thermal spring town.  Now we had the best thermal springs in our lives in San Pedro de Atacama, Chile, so I am under no illusions about this as we have also been to some total shockers.  We get into the town and then end up driving back out as it was packed and nowhere to park.  We parked near the local swimming pool on the edge of the river (Rio Mino) and walk back into the town and got a very helpful map from the tourist office.  We head off to the string of thermal springs and the carpark on the river that we can camp for one night free.  We struggle to find the carpark and even the thermal springs as the map is more an artistic perception than the real thing, but after going over some flyovers and finally finding the pedestrian bridge we pull into the carpark.  We quickly don our bathers and grab a towel etc and walk to the thermal springs.  There are different centres along the river (with most of them having a water temperature of 60 degrees) and we picked the first one (Burgas de Canedo) which has several pools at various temperatures.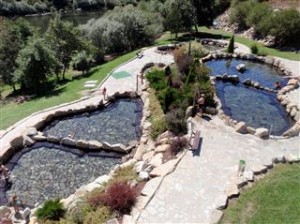 Big bonus here – these thermal springs are free with the exception of two private ones where you pay EUR5 or you can select to have massage packages etc.  We are in the thermal springs before you can blink and seen enjoying relaxing in the sun.  Can't remember the last time we just sunbathed – I didn't even have a book.  After a few hours we were sufficiently wrinkled so decided to head back to Vinnie.  There is a restaurant nearby the carpark so we venture in there for a copa vino blanco and also a tapas plate which turned out to be fantastic (tortilla patatas for me and a tuna thingo for Scott).  Once we were back at Vinnie several other motorhomes pulled in to camp for the night so we didn't feel lonely. 
Tuesday, 30 August 2011:  Combarro
We were woken at 3am by a motorhome coming in but soon were back in the land of nod.  Scott got up at 8am for a 10km jog and I read a book (perfect).  As soon as he came back we headed back to the Burgas de Canedo thermal springs.  We were going to try the Zen thermal springs but it was closed today (we got our Spanish days muddled up yesterday), so resorted back to the free thermal springs, except today it was absolutely backing hot with everyone turning pink.  Today is also not sunny and there are low clouds.  We decide to drive to Combarro to catch up to the Vuelta.    It is a rest day today on the Vuelta, but we do see Garmin, Liquigas and another team out for a short cycle around the surrounding mountains, we also see the Garmin and Radioshack team buses with all the bikes out getting a service.
The drive is miserable, raining and windy which doesn't bode well as Combarro is a seaside resort.  On driving into Combarra we were expecting a postcard-perfect seaside village, but maybe it was the weather, but it just lacked appeal.  We parked Vinnie and found the tourist office hidden down many laneways and got a map etc.  We stopped and had a relatively nice lunch, nothing too fantastic and then made the stupid decision that we would go into up to Sanxenxo and O Grove.  There are loads of camping grounds but they are all big and sprawling, so we find the Aires de Camping and top up water and empty waste and continue up along the seaside drive.  This place obviously gets super popular in better weather as the carparks are absolutely mammoth.  We give up and then make an even more stupid decision to drive back into Pontevedra which has an Aires de Camping and we thought we would sleep there as Pontevedra is the finish town for the Vuelta on 1 September.  This was a huge mistake as the Aires de Camping spot is actually a rubbish tip and along with the other autocaravanas there we all left almost instantly and we found another car park but it just had a terrible feel and I was very wary at leaving Vinnie there.  We decided to go back to Combarro and stay in the Port carpark which the tourist office said we could (free overnight camping).  Once arriving back in Combarro we get out for a wander and find the most beautiful jumble of seaside shacks, bars, restaurants and shops all tucked away in a fantastic historic quarter and crooked lanes that melt into the rocks.  Now we got it.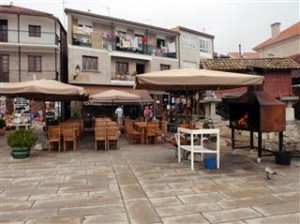 We walked back through the Igrexa de San Roque and the Peirao da Rua before stopping at two different bars for some wine and sampling the free tapas before deciding to eat at one of the parrilla places right on the bay (O Peirao right at the front of the waterfront horreos).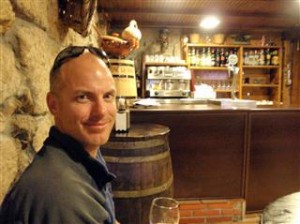 The rain had now eased off and although it was cold we had a great view of the surrounding bay.
Up early as we didn't have a fantastic sleep – it was windy and rainy, although we backed onto what felt like a private beach it wasn't a very protected spot.  It is still drizzling (there's a surprise), so we are now heading to Ponteareas which is the start town for the Vuelta on 1 September 2011.  The drive isn't difficult and we are at the local campsite by lunchtime.  It seems to be relatively deserted so we venture into the town and get some maps and find out where the race starts etc and what is happening.  Although due to the weather probably not much happening.  We have noticed that there are no advertisements etc for the race, in direct contrast to the Tour de France which you knew was coming.  Hopefully tomorrow we will walk into the town and it will be transformed.
We head back to the campsite and get a spot with electricity and more importantly access to hot showers as it has been a few days.  The weather is still miserable so we are spending the afternoon using our Orange Wireless Anywhere precious internet account to do some catching up and connecting with the outside world.
Thursday, 1 September 2011:  Orense
We decided to head back to Orense after watching the start of the Pontearnas to Pontevedra La Vuetla stage.  We get into Pontearnas and are able to see the main stages set up in the centre of town and walk along the race route.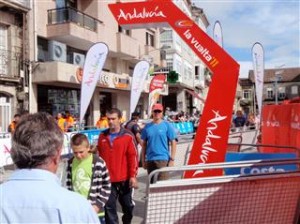 We then head to where the team buses are arriving to catch a glimpse of the cyclists getting ready for the long day.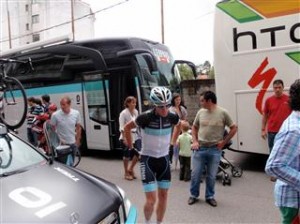 We arrive latish in the afternoon after the drive and head to the Outariz thermal spring (EUR5 per person) for a wonderful laze in the baths.  Scott went for a jog and met me there later.  It is a great way to spend the time, but Scott preferred the free thermal springs, although this private one did have nice hot showers.  We went back to the restaurant near the campervan for a drink when it started to rain heavily and decamped inside of the restaurant for another drink and tapas before heading back to Vinnie and a late dinner.