5-6 November 2011:  Dresden, Germany
A not too early start to the day and a short drive to Dresden in Germany.   Scott loves the fact that we can just drive between countries, no passports, no checkpoints – nada.  We didn't even know we have crossed the border (no signs whatsoever) except that the drivers seem to be faster but much more courteous.  And when I say faster, I mean faster, there isn't even a maximum speed on the GPS.  We have found a parking spot right across the river from the Cathedral etc (EUR14 per night with security) so drop Vinnie off, rug up and head straight out to the TIC as we don't even have a map, after all Germany wasn't on our list of countries visit, sometimes being spontaneous can be a bugger.  We have to say that first impressions are fantastic, the city is easily laid out, great transport, lots of places to eat, and a lot of things seem to be free – what more can two unemployed homeless people ask.  So we made an executive decision and are staying an extra day to see some more of the city before heading to Berlin.  The only bizarre thing here is that the memorials to the war dead don't really mention WWI or WWII, they mention the Nazi war, ignoring that the vast majority of people here in Germany were involved against the Allied forces.  Even here in Dresden, instead of mentioning the bombings that took place in 1945, they say the fire fights.  I suppose it is hard to acknowledge that they started two world wars where millions of people were impacted across the globe.  After the tourist office for maps our first stop is somewhere for a snack and drink and we choose that German of all restaurants – an Argentinean Grill (El Rodizio on Wilsdruffer Str. 22), it was close, they did something vegetarian and we could work out where we wanted to go.  Suitably refreshed with nachos and a couple of huge classes of wine we head back into the town.  Strangely it doesn't even feel so cold now.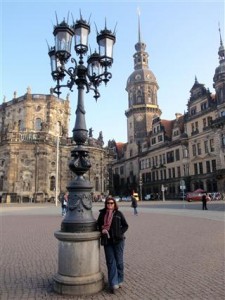 Zwinger:  Built in the 18th century this is giant courtyard surrounded by buildings that would resemble a glasshouse with a covered in roof.  The buildings are baroque and extremely ornamental.  It is hard to describe just how big some of these buildings are and how intricate their carvings and designs are.
Semper Opera House and Theaterplatz:  Walking outside the Zwinger you come straight up to the Opera House.  Again designed in the 18th century but instead of baroque it is in the Italian High Renaissance style.  Yet again I realise I should have probably studied architecture or history or anything else other than sustainability.  The building was totally destroyed in 1945 but reconstructed in 1985 with fantastic attention to detail.  In fact I didn't realise it had been rebuilt until I read the blurb.
Catholic Hofkirche Church:  This is a strange church; it is all white surfaces with lots of gold edging, no dark gothic art that is normally associated with the Catholic Church.  Designed in the 18th century it meets the requirements of the Lutheran church (middle nave).  The heart of Augustus the Strong is buried in the church crypt.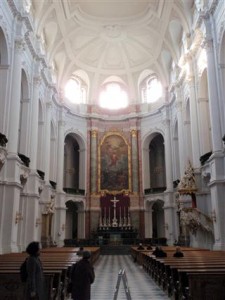 We stop at a German restaurant (Kutscherschanke on Munzgasse 10) for something more substantial (Scott had sausages and I had a veggie soup) before bracing the cold weather for the walk back to Vinnie.  It may be cold but the sun is shining and loads of people are out in the parks doing a huge variety of sports and just enjoying themselves.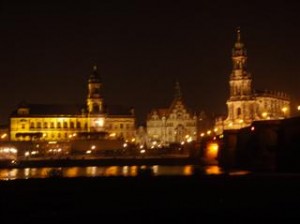 The next day it is sunny but still freezing, but we are up and about with an aim to finish the sights.  Scott goes for a morning jog (mad if you ask me) and I stay inside nice and warm and reading of course.  Even though I am not working it is hard to keep up with all the reading I want to do and also write up my book reviews (www.ourbookclub.net.au), not enough hours in the day and I wonder how on earth I managed working full-time, studying full-time and reading.
Bruhl Terrace:  This was a set of private gardens for Count Bruhl but is now a promenade which gives you fantastic views of the surrounding buildings.  Just below Bruhl Terrace is the river which has a large selection of paddle steamers and you can take a trip up or down the river – we elect to do a walk instead especially as I hate boats and being stuck on one just doesn't appeal.
Procession of Princes, Royal Mews:  This is a strange art work.  Along the side of the transport museum you can see a porcelain depiction of all the Saxon rulers.

We spend the rest of the day wandering through the streets of the city on both sides of the river having a leisurely lunch back at El Rodizio on Wilsdruffer Str. 22.  As the weather starts to turn to freezing, we finally head back to Vinnie.
7-8 November 2011 – Berlin, Germany
The drive to Berlin was along motorways and we were totally obscured by fog, so didn't really see too much.  We had picked an Aire in Germany from the Camperstop book but the first one was closed, so we then picked an Aire from the Aires de Camping GPS software and yep, that was closed or didn't look like it had even existed for ages, so we gave up and looked up an AA Aire and headed towards the Internationale Reisemobilstation which is a short walk from the Brandenburg Gate.  On arrival there was nobody on reception so we headed out for lunch at a local Italian restaurant – loving this Germany food aren't we.  After a couple of hours we went back and checked in and then headed back out to the supermarket to buy a few staples and Scott bought a mobile phone card for the iPhone, this didn't work but he had to come back at 5pm when the owner would be there for a refund (we think the guy who gave us the card had cut it wrong).  It is now dark and freezing, so back to Vinnie it is.  At 5pm Scott heads back to the mobile phone shop and gets a new card, but we have to wait a while for it to activate.
Up early and tourist map in hand.  We stop at a Vodafone store as the mobile phone card we bought yesterday still isn't working to find out that it was someone else's card, so we bought a new one and it worked instantly – moral of the story don't buy from a local shop that isn't the actual provider.
Reichstag (Parliament):  The home to the German government.  Although designed in the 19th century (it originally opened in 1894) it was almost destroyed in 1933 when a mysterious fire broke out and with the blame placed on the Communists, this gave Hitler the perfect opportunity to declare dictatorial powers and should we say the rest if pretty well documented in history.  It also faced massive bombardments in WWII.  After the reunification of Germany it was rebuild with a recent addition of a large glass dome designed by Sir Norman Foster.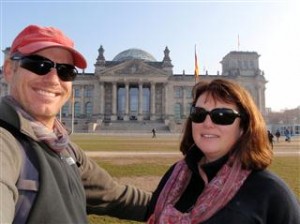 Brandenburg Gate:  The Acropolis has to be the inspiration for this monument.  Constructed in 1789, there is a fantastic photo of how it looked after WWII and the work to restore it today.  It was the boundary between East and West Berlin and was once integrated into the Berlin Wall.  Around the corner from the Brandenburg Gate is a wonderful memorial to the European Jews, very eerie with large concrete blocks in different heights.
Potsdamer Platz:  This was once one of the most prestigious areas in Berlin, it was the place where Germany's first traffic light was installed and where the first electric street lights were installed, however it appears to be a building site at the moment and other than large amounts of roadworks, it is hard to work out what the area is.  Yes I know it was flattened during the war, but in the rebuild they could have put some of the glamour back into the area. 
Berlin Wall:  We walked to an area where this is a section of the Berlin Wall along with some information panels, a large section of below the wall and how things were cut off or destroyed.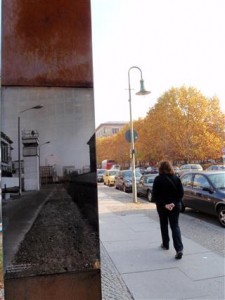 Next door is a large photographic pictorial of the War and the rise and fall of the Nazi's.  There is so much information in here, that it could easily take up several hours and it is interesting to see some of the photos and descriptions.  It is a strange place and I wondered if some elderly people came in here and saw themselves in the photos in their Nazi uniforms etc, or whether they just ignore the whole thing.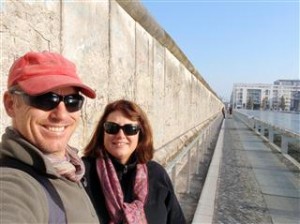 Stallschreiber Strasse:  This area was known as the "Death Zone" and saw the killing of many people who tried to cross the Wall.  There isn't much left here, but large boarding's that have been put up show pictures of what the street and area looked like when the wall still stood.
Corner of Zimmerstrasse and Charlottenstrasse:  This is the sign of the shooting to Peter Fechter as he attempted to climb over the Berlin Wall to escape.  A few months later the Wall was demolished.
Site of Checkpoint Charlie:  This is the spot that everyone knows from the Cold War days.  Created in 1961 and was the only border crossing that all Germans were forbidden to use.  It is now a giant tourist attraction and there is also a museum.  If you want your photo taken there are plenty of people dressed up as US or Russian military.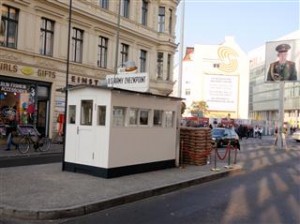 Gendarmenmarkt:  You stumble into this area and it is breathtaking.  The buildings are monumental.  It is also easy to forget it was totally demolished during WWII and rebuilt/restored by the East Germans.  The square's centrepiece remains the neoclassical theatre (Schauspielhaus) designed by Karl Friedrich Schinkel in 1821. Restoration of the French Cathedral here was completed in 1983, and the property was returned to the French Reformed Church. The Schauspielhaus reopened in 1984 as a concert hall.
Königliche Bibliothek (Royal Library):  This library is part of the Humboldt University, which was completed in 1780 and modelled on the Royal Palace (Hofburg) in Vienna.  The library is remembered as the site of Hitler's infamous book burnings and through a window set in the pavement, you can look below to a small library lined with empty bookshelves which is very evocative.  How can students, or anyone, burn books, you go to school and university to become educated and learn about the world around you!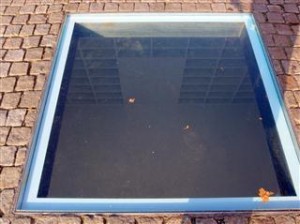 Unter den Linden:  We take a quick walk along the Unter den Linden on our way to Alexanderplatz.  The street is a wide boulevard with the East Germans restoring many of the buildings.
Alexanderplatz:  This was the centre for activity in the old East Berlin. It is now an area of really rundown shopping centres etc.  However, we found a great Hari Krishna restaurant to fill ourselves up at before hitting the streets again.
Nikolaiviertel:  restored in 1987 this part of town is where Berlin was originally founded.  Many of the medieval and baroque buildings in the neighbourhood were completely and authentically reconstructed after World War II. Subsequently, some of the city's old flavour has been recaptured here.  The Nikolaikirche is the oldest in Berlin, was originally constructed in the 14th century on the remains of a 13th-century Romanesque church. The restored building now displays the finds of post-war archaeological digs; during the reconstruction, 800-year-old skeletons   Around the corner from the church is an incredibly lifelike statue of St George slaying a dragon.  I also find my perfect tourist souvenir of a small chip of the Berlin Wall and for under our budget I was suitably chuffed even though Scott thinks it is highly unlikely it is from the wall itself.
Berliner Dom:  constructed between 1894 and 1905, in the style of the High Renaissance and the largest Protestant cathedral in Germany.
Hedwigskirche:  the Roman Catholic cathedral of the Berlin diocese. Begun in 1747 by Frederick the Great and was restored between 1952 and 1963.
The New Synagogue:  Originally consecrated on Rosh Hashanah in 1866, and capped with what's remembered as one of the most spectacular domes in Berlin, this synagogue was vandalized in 1938 during Kristallnacht, torched by Berliners in 1944, blasted by Allied bombs in 1945, and finally, after about a decade of further deterioration, demolished by the Communist East Germans in the 1950s.  It was inspired by the architecture of the Alhambra in Granada, Spain.  It has been partially rebuilt, and capped with a gilded dome that's visible for many surrounding blocks.
We were totally shattered by the end of today and can't believe we managed to get to see everything on our list – whew.
9 November 2011 – Eland, Germany
Up early as the weather is diabolical and you can hardly see across the Aire.  We are heading to a hill town called Eland to have a break from cities and to hopefully enjoy some quiet.  Berlin is not the quietest city with sirens going off nearly all night long.  The drive is not interesting until we get into the forests, which originally start out as eerie and then the sun breaks through and it is all blue sky.  On arriving in Eland we even crack out the camp chairs and sit in the sun for a while – awesome is the only words we can use to describe that feeling.  Unfortunately as soon as the sun sets it drops to minus lots and we rug up.
10 November 2011 – Horstel, Germany
The drive today is through beautiful countryside, it is interesting and varied.  We are also on the hunt for a gas bottle as we are getting low and with the cold nights we need to use some gas for heating.  We following many wild goose chases until we chance on a small one man garage selling the exact bottle we need – so between his German and our English we hope we have got a good bottle.  We hit the road again and finally find our Aire in Horstel which is on the edge of a canal.  We spend the time watching the huge canal barges go by and they are so quiet it is a really nice setting.