Wednesday, 14 September 2011:  Tarifa
We decided last night to head to Marrakech, so off we go.  We are going to drive to Tarifa where there is a ferry port.  The drive soon turns to being very windy and obviously it is windy in this region considering the millions of wind turbines and also the quantity of solar farms.  It is interesting that the footprint for the wind turbines is considerably smaller than in Australia and nobody here seems to have an issue with them being on the surrounding hills?  Maybe it is a case of better this than nothing.  We eventually make it into Tarifa late in the day and after checking the prices at a couple of campsites setting on Camping Torre de la Pena 1 (www.campingtp.com) where we could get a spot overlooking the ocean.  It is very windy and all you can see along the coast are kite and wind surfers.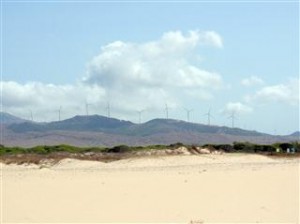 Thursday, 15 September 2011:  Tarifa
We head into the town centre to look at some car parking options and ferry prices.  We find it almost impossible to park a motorhome in a secure spot, but negotiate with a secure undercover carpark to purchase two parking spots for several days which seemed our best option.  Although Scott is getting good at reversing the motorhome back up all the streets that we keep getting sent down on our parking quest.  With the parking sorted we walk through Tarifa which has an old section but seems to be fairly boring in comparison to other towns.  We find a small electric shop and finally purchase a little gas top coffee percolator and also some coffee.  Finally a decent coffee to wake up for.  The ferry leaves every hour to Tanger and there is no need to book.  So tired, hungry and needing to pack we head to another campsite (Camping Tarifa) which turns out to be better and considerably cheaper than last night.  We also find out that we can leave the motorhome here and it will be cheaper than the other secure parking and we can leave the electricity plugged in to keep everything cold and ticking over – perfect solution.  So we have a meal to use up as much fresh food as we have and an early night after packing a few bits.
Friday, 16 September 2011:  Tanger, Morocco
Final packing and our daypacks are ready, so we lock up Vinnie and hope he is here when we return and start the walk into Tarifa, which didn't seem far when we drove it.  It turned out to be much farther than we thought and we arrived at the ferry port at 10:55.  We thought there was no way we would get onto the ferry, but we whizzed through the ticket purchase, straight to passport control (who laughed at Scott's passport and said not to wash it again – I know I made a mistake).  We boarded the ferry at exactly 11:00 and we were on our way.  This is a huge ferry with hardly any passengers on it, so figured they would probably wait for us if we had gone slower.  The ride was advertised as taking 35 minutes, however, 1 ½ hours later we finally arrived in Tanger.  We got a map from the ferry port and headed to what looked like the train station (or as we are now back to speaking French – le Gare), however, after walking for a long time we realised the map and where the train station were do not line up even closely.  We got to the train station and booked onto the night train to Marrakesh with a bed which leaves Tanger at 9pm and gets into Marrakech at 8am.  We bought some postcards and the lady at the postoffice (who apparently didn't speak English but we kept saying she was speaking better English than us), told us how much a taxi etc should cost and what brand of taxi to get etc.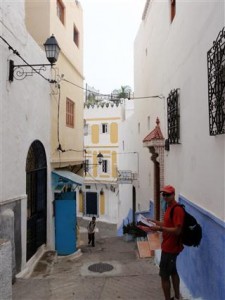 This left us the rest of the day to wander through Tanger so we caught a taxi back towards the old part of town.  It is Friday and most things appeared to be shut, so we got a better map at the tourist office where the lady also gave us some names for restaurants and a suggested walking itinerary.  We thought we would walk to the closest restaurants called Hahmadi or Marhaba, but gave up after ½ an hour and walked back to one called Petit Berlin.  This was also much further away than we thought or the tourist information lady hinted at.  Anyway we got there and ordered a vegetable cous-cous for me and a kofta tagine for Scott.  We were given the obligatory free tapas of olives and some anchovies and tried our first mint tea.  The lunch was lovely although fairly mild in flavour the cous-cous was so light and fluffy, nothing like what we have at home.  We then wandered back into the old souk/mosque/medina area, but this time some of the shops had opened so we walked around exploring the area and sticking our noses into everything and anything.  Stopped for another mint tea to quench our thirst.  Eventually we head to the train station to wait for the train.  We grab another mint tea and a hot plate of chips before piling onto the train.  The cabin is fairly small with four berths.  Scott has a bottom berth, I have a top berth and another guy has the other bottom berth.  This guy was fantastic, a South African who has lived and worked all over the place, mainly running guest houses.  He was doing a visa renewal run into Spain and had imbibed a bit too much Spanish port, but had an interesting collection of stories.  I listened for a while and then took some travalcalm and promptly fell asleep.  Waking intermittendly as the train launched itself through the Moroccan countryside at night.
Saturday, 17 September 2011:  Marrakesh, Morocco
On waking we were slowly coming into Marrakesh surrounds where the landscape is fairly boring, no huge sanddunes and small communities.  Instead it seems to be a large rubbish tip with plastic bags as far as the eye can see and the ground is sort of rocky with similar crops as southern Spain.  We arrive at Marrakesh with no map, itinerary, accommodation or an idea where we are actually going.  We manage to buy a map at the train station which at least gives us the areas here in Marrakesh.   We decide to get a taxi to the Place Jemaa-el-Fna  where we grabbed a mint tea and watched the world travel by and all the sights and sounds of a different country and life.  Scott talked some fellow travellers next to us but they are on an Intrepid tour so haven't been doing much exploring themselves.  They did point us in the direction of where Sex and the City movie was filmed.  We head off towards the medina and the souks only to find out later we had taken a wrong turn and ventured into the Qzadria area and the old palaces.  Still it was fun and exhilarating to be doing something with no plan.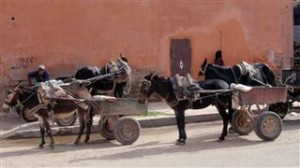 The old archecture is mainly rose-tinted and the old city is enclosed with a ring of ancient walls.  It is the atmosphere and maze-like souks that draw people here and I would also suggest the chaotic feeling, although it isn't chaotic, it only looks that way.  After first impressions everything does seem to have an order to it. 
However, it was getting very hot and we decide we should track down some accommodation and settle on the Ibis which is near the train station.  I know it isn't flash and glamorous but we are only going to be there for a few days and a lot of the Riads appear to be shut or alternatively are way outside our budget.  We arrive back at the Ibis and fill in the form and then wait for ages for a room.  When Scott checks on our room he is told to fill out a reservation form on the internet, this worked out more expensive than checking in with the rates on the board in reception.  Hmm not sure on their plans.   Anyway as we had already filled in the form, we stuck to our guns and they gave us a room.  We dropped off our bags and headed back into the Medina and found lunch at Cafe Argana again sitting there eating wonderful food, drinking mint tea and watching the world going by.  We venture back into the Medina which is now starting to throb with people and we get a few prices of things we may want.  Headed back to the Ibis for a lie down (Scott has a sore throat) and to relax before going back into the town tonight for dinner.
We head towards the Place Jemaa-el-Fna and wow is it a different place at night, it is absolutely fantastic, people are everywhere and there is so much going on.  The whole centre area is full of food stalls, all offering the same and for the same price, so you just pick one you are convinced to eat at.  Scott starts off at a little stall selling snails which he liked (I was dubious).  We then went to another stall for a vegetable cous-cous and Scott also had a local dish of lamb.  The food was delicious and there are so many people that it is turned over pretty quickly.  We finish our meal off with some sort of ginger/ginseng desert and a hot drink – can't even begin to explain the flavour except we both slept like logs that night.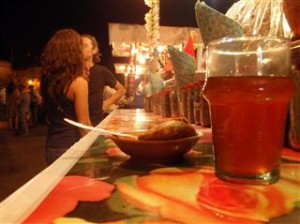 Sunday, 18 September 2011:  Marrakesh, Morocco
Up early and after a very mediocre breakfast (this Ibis is nothing like the one in Tanger or Istanbul) we head out to do some sightseeing.  We visit the Bab Agnaou, Tombeaux Saadiens, Palais La Bahia and the Herboristes Epices area.  From the Palais La Bahia you can climb up and see over some of the surrounding buildings.  You are instantly amazed at the sheer number of satellite dishes they are everywhere and anywhere.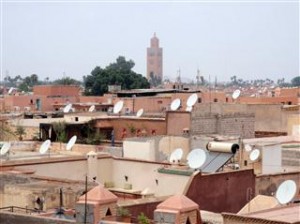 There is quite a lot of work being done and you just know it won't hold up compared to the original parts of the city.  We also venture into a local market full of meat, fish and veggies.  Most of the stuff looked very fresh and there was a huge variety.  Although I still feel it is offputting to see a whole cows head etc on display.
We then hit the Medina (Souks) and purchase some Moroccan glasses, I get a new scarf (because I didn't get enough in India), Scott gets some more hookah spice and a few other trinkets that caught our eye.  We have lunch at a little stall which was a nice vegetarian cous-cous and some haricot beans before heading back into more of the Medina.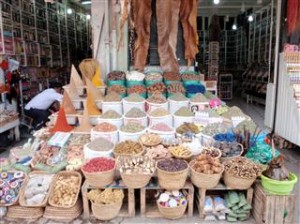 Honestly you could walk here for days and sometimes not find what you are looking for, we spend a bit of time trying to locate a shop that sold a specific dish to only find it later when looking for something else.  We stop in the afternoon for the obligatory mint tea and then go back to the Ibis for a lie down and get ready for dinner.  Although we were hoping to get views of Mount Toubkal (North Africa's highest peak), there is a lot of pollution and a hazy smog that prevents you from seeing much of the horizon.
We venture back into the main place which is as manic as last night and do our last few bits of shopping.  Scott has a hair cut and shave from a local shop and we have dinner which is a gastronomic feast – lots of little bits of everything.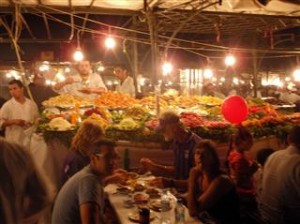 We then stock up on dates, figs and pistachios for our trip on the train.  We will certainly miss the sheer mass of humanity and also the smells of food being grilled and cooked everywhere.  We found the people to be helpful and had no problems with the language, in fact being put to shame when nearly everyone spoke at least French, Spanish and English.  There was no pressure to buy things and you could browse and ask questions, taste foods and look at all the variety of spices with minimal fuss. 
Monday, 19 September 2011:  Tarifa, Spain
We get up early and make the 9am train to Tanger.  We have splurged out and got first class and settle in nicely for the trip.  The scenery stays pretty much the same, lots of agriculture, stock and unfinished buildings along with the obligatory rubbish everywhere.  We have to change at Casablanca where we have 1 hour so quickly venture to a nearby food vendor who was puzzled at our request for sandwiches with just salad, however, we eventually got it and then headed back for our ongoing train.  The lady at the ONCF counter said it would take 8 hours.  However, 9 ½ hours later we finally arrive into Tanger after a change of trains in Casablanca.  We manage to snag a taxi and made it to the port at 6:40 and ran for the 7:00 ferry.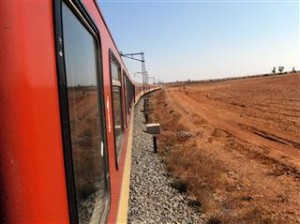 We disembarked in Tarifa and whizzed through passport control, they didn't ask any questions or even how long we would be in Spain for but we have now got even more stamps (I have gone back to using my Australian passport to keep up with the stamps Scott is getting).  There is a two hour time difference between Tarifa and Tanger, so it is now 11pm and we get a taxi to the campsite.  We arrive to find that Vinnie is still there and everything is still in it.  Whew what an absolute relief.