26 May 2011 – Worcester
Finally we head off from London.   This is it, no turning back now.  First up is Peachley Leisure Touring Park in Worcester where we visit the local supermarket to top up before testing out the local pub.  There seems to be a theme to this motorhome travelling.  Anyway the weather is as usual (as it has been since we bought the motorhome) windy, wet and depressing, so we head back to the motorhome for a warm meal and glass of vino tinto. It would appear that a lot of people have made this campsite their permanent home tell-tale signs include garden sheds, walking stones, pot plants etc.
27 May 2011 – Holyhead, Wales
A relatively long drive to Ty Mawr Farm in Holyhead.  Again the weather isn't the best, so we don't stop along the way, instead finding the farm asap.  The farm is set on rolling green hills overlooking the beautiful bays and rugged scenery of North Wales.  We pull and plug into the electric socket and whilst Scott goes for a jog, I potter around the motorhome and enjoy some quiet time reading.  Eventually Scott finds his way back and the best thing with a motorhome as a warm shower inside – no more traipsing to ablution blocks etc.  We decide to go for a walk and have a look at the RSPB lookout sanctuary for Puffins, but alas every other type of bird but Puffins, I am beginning to think they are a myth.  We walk along to the lighthouse and the weather starts to get even worse, so decamp back to the motorhome and watch the wild weather come in over the seas.  Obviously not boding very well for our ferry crossing to Dublin tomorrow, but hopefully it will ease off somewhat.
28 May 2011 – Dublin, Ireland
We arrive at the ferry port at Holyhead and join the queue for the Irish Ferries crossing to Dublin Port, the closest port to Dublin. Irish Ferries advertises that they are the cheapest, but considering there are only two companies and they are both the same price etc not sure how that works!  I head into the terminal and get a copy of our tickets and we make a coffee and wait for boarding to start.  All very easy so far, the only difficult part appears to be that nobody will stamp Scott's passport to show he has left the UK.  So hopefully we can track someone down on the Irish side.  Anyway the sign says rough crossing so I take enough Travel calm to sink a small army and after we board and head up to the deck area, I spend most of the crossing fast asleep.  Of course when I wake up, it turns out the crossing was smooth, hardly a ripple which is apparently a tad unusual for the Irish Sea. We get off the other end and drive around finally finding the Customs House and Scott is given a stamp – yeah, he has officially left the UK and his tourist visa.  We then set the tom-tom for the camp site at Camac Valley and head off through the motorway and street system.  However, we turn off the motorway at the wrong junction and Scott does the refuse to ask for directions manly thing. I eventually ring the camp-site and get directions which Scott decides can't be any good so we do spend a bit of time driving through car parks until he gives in and follows the directions given.
We head to the local supermarket to get a few bits and pieces as well as some wine and beer to tide us over.  Before pitching camp whilst it was still light and pitch up in a nice spot with power and water.  Cooking a curry and having a glass of wine and settling down to watch a movie.  We don't have a TV or satellite, so are using the laptop as both.
29 May 2011 – Dublin, Ireland
According to the tourist brochure, Dublin is one of Europe's oldest cities, hmm they obviously haven't been to Istanbul which is way older, oh well I am sure the writers of these brochures don't let facts get in the way of describing the area. The tourist brochure also said the weather would be mild – instead we think it is exceedingly wintery conditions.
We jump on the bus from the campsite into Dublin and start on our tourist sites.  The bus lets us off at O'Connell Street, which is the main thoroughfare in Dublin and now home to the wonderful new artistic The Spire, which was built to celebrate the millennium and is a 120 metre spire. Not exactly scintillating and looking and some of the decline in this area, would have thought the money may be better spent on providing some sort of economic assistance to the shops. However, there are still lots of Georgian architecture intact and you can see bullet holes in some of the building's columns from Irelands past troubles. We meander across the Liffey River and into the old part of the city along the old city walls and Dublin Castle, which is a tad disappointing, except for the gorgeous chapel what has a fantastic organ and some of the most beautiful stained glass windows we have seen for a while. We then bypass the model toy exhibition due to very nerdy people standing around and eventually head to the Guinness Factory.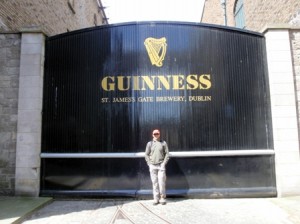 You can't really escape it, as it seems to engulf a huge proportion of the city and every pub is a shrine to this beer.  We head into St James Park for the tour which is a self guided tour that you meander through seven floors of all things Guinness which includes the history from 1759 to today where some of the beer is still brewed at this site.  I don't drink beer, so Scott has the opportunity to have my pint in addition to his own, plus we got a couple of samples along the way.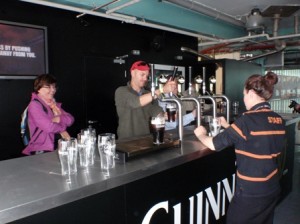 So Scott does the Guinness learn to pull a proper pint class and gets a certificate and we continue the upward trek to the Gravity Bar where he recoups his final beer voucher.  I don't see what all the fuss is about, it is strange stuff and doesn't taste any better here. Of course Arthur Guinness was a busy man; he founded the brewery, created an empire and managed to have 21 children – a good catholic man! He was also a great business man, signing the lease for the Guinness site for 9000 years at a rent of GBP45.
On finally leaving the hallowed ground of Guinness, I find a lovely bookstore in Cow Lane, Temple Bar (The Gutter Bookshop) and spend a while browsing before we venture into Temple Bar itself.  Anyone would have thought we were in Scotland.  Ireland is playing Scotland in soccer and the Scots are out in force – never have I seen so many kilts in one place.  Even funnier is the Scots are wearing kilts etc with Irish hats.  The crowd is excellent and we have a drink and chat to a few of them.  We aren't sure how many will make it to the actual game later on.  Temple Bar is in the Cultural Quarter and a maze of cobbled streets full of restaurants, bars, pubs, shops etc making it an interesting hodge-podge of sights.
We have missed our bus back to the campsite, so have to wait for the public bus and end up standing there with some of the people from the campsite this morning.  Eventually the bus comes and then takes the most convoluted trip back to our campsite, probably made more nerve wracking when you don't really know if you are on the right bus.  People here just speak so fast, it is hard for us to understand what they say.
30 May 2011 – Dublin, Ireland
We caught the hop-on/hop-off red bus again from the campsite into the O'Connell Street and decided to stay on it today and see some more of the sights, but after sitting in traffic for what seemed like hours we got off at Trinity College which is Irelands oldest college, founded in 1592 by Queen Elizabeth I and is in the heart of the city on 40 acres, it is also the home of the Book of Kells which is a 9th century illuminated manuscript. Trinity College has some famous alumni, among them Bram Stoker, Oscar Wilde and Jonathan Swift.
We then walked around to St Patrick's Cathedral is a huge landmark in the city and was also famous for having Jonathan Swift as Dean from 1713-1747 – okay for those that don't know, he wrote Gulliver's Travels. Handel's Messiah was also sung for the first time in this cathedral.
We took the bus on a longer part of the route up through the main park in Dublin (Phoenix Park), past the Duke of Wellington memorial (which is massive) and past Dublin Zoo. Dublin Zoo is apparently famous for its breeding program of lions and tigers (most famous lion bred here was the MGM film tiger), not sure how it works as the weather is totally different. Anyway the bus-ride was absolutely freezing, so we jumped off and visited the Old Jameson Distillery in Smithfield (or Smiffield as it appears to be called). We do the tour that takes you through the history of the distillery, unfortunately it is a bit rushed and you don't get much time to take in the information. The Distillery is no longer used by Jameson's and it is just an information centre. Scott was lucky enough to get picked as one of the whiskey samplers, so was able to have a few comparison tastes with other brands.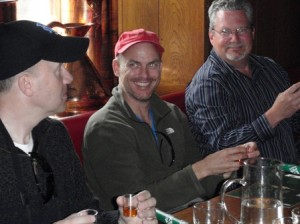 We managed to get the bus back tonight on time and did some of that boring house-work stuff that doesn't end when you don't have a house anymore.
31 May 2011 – Dublin, Ireland
Big day today and up early to ensure we are smartly dressed and have all the paperwork in place. We have an appointment at the UK Embassy for Scott to apply for his 2 year visa in the UK. So we jump on the bus and then gradually make our way up to the embassy. We were there an hour before the appointment but decide to go in on the hope we might get in early. After passing through some very strict security, we are number 41 in the queue; the number when we arrived was at 22. Good job we were there early as we would be even further along in the queue if we had arrived on time. Of course sitting there and listening to some of the stories you just think some people are having a laugh – alas let's hope they don't think so. Eventually it is Scott's turn and he turns in the reams of paperwork etc and we now have to wait 15 days to hear if they will accept him or not.
Next up was a local pub near the embassy for a well earned and de-stressing pint and something to eat before catching the bus back into town via the Aviva Stadium, which is massive and something Perth should think about – a purpose built sports ground, radical concept.
On arriving into town we walk through Henry Street and have a look at a few prices which are much higher here than in London and then find a funky little pub called The Gin Palace where we have a snack and relax before we get the bus back to the campsite.  Dublin is a lovely city, except for the fashion sense.  There are way too many people in velour tracksuits and if you can't tan naturally don't apply fake orange tan, gross, however highly entertaining for us just to see how many combinations of tracksuits and high-heeled trainers you can get.
We are leaving tomorrow, not sure where, but somewhere J