7 December 2011 – Calais, France
We are up at the crack of dawn and head off towards Limoges where we drop my cousin at the airport for his flight back to the UK and Scott and I continue to drive to Calais in convoy.  The drive is relatively boring as we elect to take the motorway.  However, once we reach Paris the rain starts and our plan unravels fantastically.  We had made lots of plans about stopping etc but we became separated and realised that I didn't have Scott's mobile phone number for France and he didn't have my mobile number for London.  After a few calls back to London we realise that I had overtaken Scott and was now close to Calais and sat at the petrol station waiting for him to arrive.  Also in the best planning we have managed I didn't even have a jumper etc, so it was a cold wait.  By now it was getting late and dark, but once we catch up we elect to continue the drive to Calais as it was only an hour away.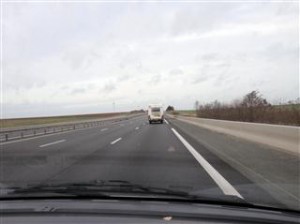 On arriving in Calais we grab a pizza and then park at the Aires de camping spot.  It is incredibly windy here; it feels like the van is going to roll over.  We are exhausted so just crash.
8 December 2011 – Earls Colne, Essex, England
Up and finish cleaning and packing up the van.  During the night due to the wind and rain, Vinnie is now covered in sand (we are on the coast), but we decide to head to the P&O Ferry Terminal early and see if we can get an earlier ferry.  On arriving we find that due to the bad weather they have put us on an earlier ferry but it isn't scheduled to leave until after the one we were on.  However, we get in the queue with everyone else and sit there and then sit there some more.  We eventually board the ferry and the crossing is very rough and also takes an hour longer than normal.
We are having dinner with friends in Essex, so hit the motorway and make great progress until we get to the M25 junction with the A12 and sit there for 45 minutes before electing to continue to another junction.  The traffic is a nightmare along with the road conditions.  We eventually make it to have dinner with Nancy and Marc about four hours late.
9 December 2011 – London, England
We get up early to see Harvey and Mary in their school uniforms which was fantastic.  So annoyed that the travel plans for the day before were so bad.  We pack up Vinnie and then head down to Kent to drop Vinnie off.  Sadly we waved goodbye hoping he finds some good owners and they have as much fun as us.  We are soon on the road to London where we are staying tonight.  The weather is totally different today and there is even some sun.  The roads are clear and we arrive in London by mid-afternoon.
10 December 2011 – York, England
We are still trying to do some sightseeing to head up to York to have a look at the Cathedral and the town.  It is a lovely town with the river currently at a high.  We had no idea it would also be so busy and managed to get a room at a B&B with the help of the local Tourist Office.  We park the car nearby and drop our bags in our room.  Heading out for drinks and dinner we realise it is only 5:30pm.  Considering it gets dark so early plus it is freezing, we are also exhausted; we do a quick walk around the town and have a drink.  We end up eating dinner at 6:30pm and then just crash.
11-16 December 2-11 – Morpeth, England
We are spending the next week visiting family and friends in Morpeth who I haven't seen for about 25 years, so it is good to catch up with people and Scott is enjoying the hospitality of roast dinners and lots of pints of lager.
13 December 2011 – the weather is getting colder and windier so we decide to head to Hadrian's Wall and have a walk around one of the Roman forts.  We are the only tourists, but it was a great place to visit and you appreciate how skilled the Romans were at building, especially ones that last.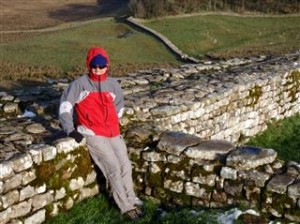 14 December 2011 – we hire a car and head up to Edinburgh through the snow and ice for a night in Edinburgh.  The city was all lit up for the Christmas period.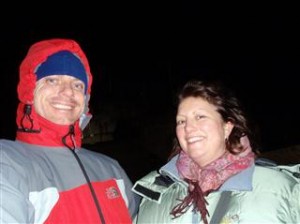 15 December 2011 – we drive back from Edinburgh via the coast road visiting Bamburgh Castle, Craster (fantastic lunch at The Jolly Fisherman), pop into Alnwick and then head back to Ashington to visit my Uncle and Aunty.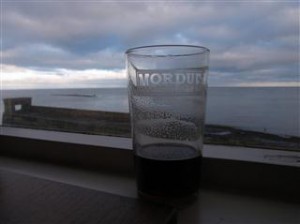 17-23 December 2011:  London, England
We catch the train from Morpeth back to London to spend the last few days arranging some boxes to be shipped to Australia and catch up with more friends and family.  We spend the time wandering through some of the places we still haven't visited and start organising work and travel options for 2012.  We still found places we hadn't visited before i.e. The British Museum (absolutely fantastic), Tate Gallery (love Turner) and also revisited some favour haunts of the Morpeth Arms and Mildred's.  In addition Scott did his best to drink as many beers as possible before heading back to Australia where he will miss traditional ales.
We can't believe our trip has ended, although we are getting excited to see some sun and warm weather.