27 December 2010  
Another cold day in Exeter.  We all rugged up and headed out for some sledding.  The snow is starting to melt, but we had a great walk to the local area for sledding.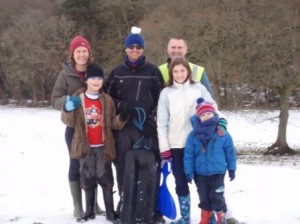 So everyone spent the morning up and down the hill having a great time in the snow.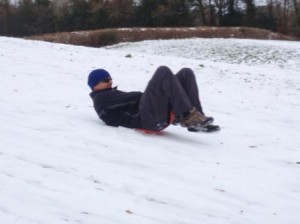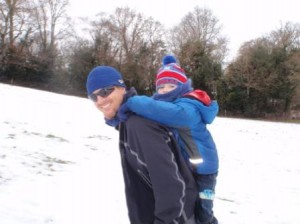 Still it was great to be outside.  We got home, showered and changed and headed out to Dart Farm which is a huge organic farm market which has restaurants, fruit, veg, wine, gifts etc.  So we settled down for a fish and chip lunch – it was a long wait as the place was packed, but it was really good (not that I had any), but better than anything else I had seen.  So replete we wandered around, bought a few things for meals and piled back into the car for the trip home.  We drove the scenic way through the tiny little villages, only imagining how remote it would have been just a few days before.  It was now raining, so the snow was melting fast.  Back home, we put our feet up and spent part of the afternoon playing Moshi Monster with Henry before having an early night.  It gets dark so early that you feel like it is late, but in fact it is only early.  Very strange. 
28 December 2010
A late start today as the kids were feeling the after affects of too much Wii last night.  After a breakfast cooked on the Aga (slow toast and coffee) we watched as Mark and Toby "herded cats" trying to get Henry, William and Adelaide ready for a day out in the car.  Yesterday, Mark commented that leaving the house before 10:00 is a record; today we finally got into the car at 12:00.  We headed towards Dartmoor where we were promised views over the countryside.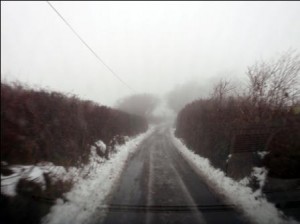 Unfortunately, the weather wasn't privy to our plans and at times we could barely see out the windows of the car as the fog was very thick.  We meandered through very narrow country roads and drove very gingerly in the slippery conditions trying to find Becky Falls, which was shut anyway.  We eventually found the car park at the foot of Hay Toor.  With everyone else in their Wellington boots, Tracy and I sloshed through the meadows of melting snow in just our trekking shoes, up to the rocky outcrops of the Tor.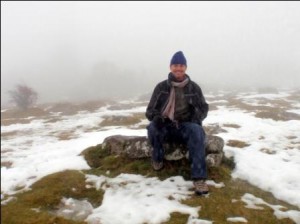 Mark, William and Scott climbed to the top of some of the rock piles to see the view, but could barely see more than a few metres in the mist.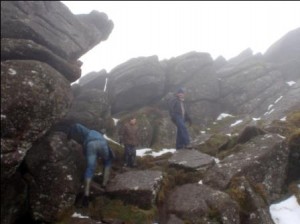 Meanwhile Tracy waited at ground-level and photographed some of the colourful and delicate mosses and lichen which covered just about every rock.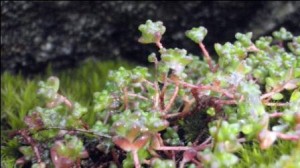 On the decent, William discovered a "letterbox"; the kids leave messages in waterproof boxes in amongst the cracks and crags for other kids to find. If they find the letterbox, they write their name and details and leave another message for other kids who may find the box again in the future.  Henry was a little tired, so Adelaide and Toby took him back to the car, whilst the remainder of us fossicked around for a while before heading back down to the car park ourselves.  Back at the car, Toby was getting our lunch ready.  She had seen on TV a chef who prepared a picnic lunch in thermoses; one had hot soup, one had hot noodles, a tub of finely sliced vegetables with a sauce, all which could be assembled to make a delicious lunch in the snow. Henry was satisfied just with crisps and chocolate.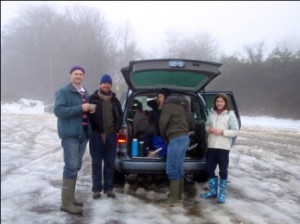 After lunch and washing the dishes in the snow, we got back into the car and headed off to a small village (Widecombe).  The centrepiece of the village was the 14th century church (St. Pancras Church) with a large clock tower cum steeple.  Inside was a little sparse compared to some of the churches we had seen in South America, but the history was still interesting.  Surrounding the church was the graveyards with headstones dating back to 1800's but many other stones names and dates were unreadable so they may have been older.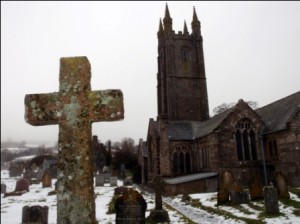 The kids' interest was beginning to wane, so Tracy bribed everyone with a locally made ice-cream with a chocolate bar poking out.  Allegedly they were delicious, because no one wanted to share their treat!  While Adelaide, William and Henry ate their ice-creams we went to the village pub for grown-up treats.  Inside, the pub looked quite new but made in an old (traditional) style with exposed beams and cozy little nooks each with a hearth.  Many tables had had used dishes on them so obviously a lot of people had been eating there, unfortunately the staff hadn't caught up afterwards.  The menu did look good and we were VERY surprised at the cheap prices, but we just had a drink each.  We looked out the window and it was starting to get dark, after all it was nearly 16:00.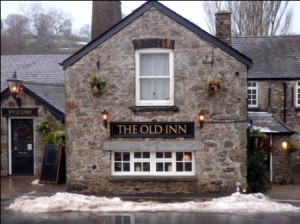 We piled back into the car and headed home, stopping once along the way to look at the mists moving through the snowy valleys.  We made it home and started the dinner preparations.  One of the neighbours (Dave) had delivered some of his famous curries and naan bread, so we heated these through whilst enjoying a beverage or three and just relaxed in the silence of the neighbourhood.
29 December 2010:  Devon
Another late start to the day.  The original plan was to visit the Naval College but that turned out to be shut and also a lot of other places appear to be closed for the winter months and particularly the Christmas/New Year week, which just seems to be totally bizarre, as there are a lot of people at home and looking for things to do after being trapped inside with the heavy snows.  Eventually Toby, Adelaide and William stayed at home as the kids were still feeling a bit under the weather, however, Henry soldiered on with the promise of a visit to see a train.  We headed off a couple of miles up the road to the "Diggers Rest" pub (Woodbury Salterton), which apparently was owned/managed by some Australians and after they left the name of the pub was kept.  We had a cleansing wine (for me) and ales for the boys and chatted to some of the locals.  This was a typical English pub and had a great atmosphere.  We then headed a few miles up the road and looked at a lovely local church (St Swithuns) in Woodbury, which had a fantastic graveyard, but the church was a little uninspiring inside.  We then visited the local pub (White Stag) for something to eat, again it was a lovely local pub very well patronised by people for lunch etc.  After a filling meal, we headed back out into the, I must say, misty, damp, wet and cold weather.
We did a visit to A La Ronde (a sixteen sided house), but after a quick tour around the grounds, a lady called out from upstairs asking us to leave as there were dangerous trees!  Not sure what she meant, but we had already wandered around we headed back to the car and back on the road.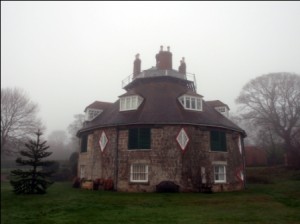 From there we finally headed to Exmouth where Henry was able to have an icecream (yes no matter how cold and miserable the weather, an icecream always does the trick) and visit the local toy train exhibition.  This involved a very large garage and a pile of different trains going around tracks.  I think it had seen its heyday and needed a good clean and some tidying up.  However, the boys thought it was fascinating and couldn't really see much wrong with it.  The guy that ran it (Bob) looked like he had become a tad too obsessed with the whole model trail obsession.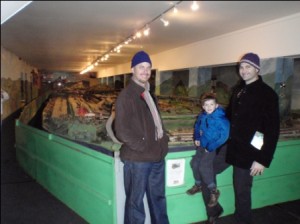 After that we got back into the car and continued driving through some of the Devon beachside towns.  One of the nicest in this small region was Budleigh Salterton (wouldn't rate the beach except it was made up of a mix of huge and small pebbles which would be worth a fortune at home) which is on the mouth of the River Otter and is close to the birthplace of Sir Walter Raleigh.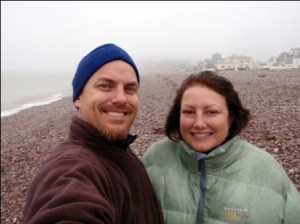 Continuing our drive home, we went through the actual birthplace for Sir Walter Raleigh in Hayes Barton where we drove past Franks Patch and got some roadside brussell sprouts for the evening meal.  We stopped for a mulled wine and mince pie at a gorgeous little pub in Colaton Raleigh and the final stop was at Greendale Farm Shop for some chestnuts.  As usual it was well dark by 4:30.
Scott and Mark headed to the Legion for an after Christmas male bonding gathering with the other men-folk of the region coming home late, but surprisingly not too worse for wear.  Scott thought it was great and how friendly everyone was.  Something that people wouldn't really be in Perth.
30 December 2010:  Devon
Our last full day here in Devon.  We headed out for a drive as the weather looks a lot more promising today and not nearly as cold as it has been.  First stop was Sidmouth which is a small holiday resort at the mouth of the River Sid.  It should be noted that on Boxing Day this town had an ocean swim for those hardy souls wishing to clear out the cobwebs from Christmas Day.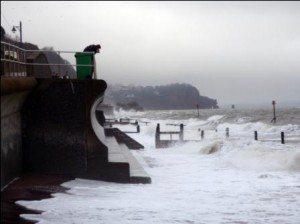 This was a lovely drive through country lanes with hedgerows and yes the weather wasn't too bad if you live in the Arctic – all of a sudden it became freezing, wet and extremely windy.  We stopped for a short walk along the sea front, not the beach as it was again full of pebbles, before jumping back in the car and continuing our journey to Teignmouth.  Teignmouth was a busy holiday town which today was even windier than Sidmouth, but we parked the car and did a short walk along the beach front – not on the beach as, although it was sandy, the waves came up over the sand onto the concrete protections.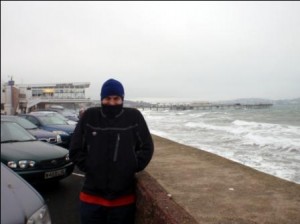 There is a pier here, which has to be one of the saddest I have seen, except it was funny in its sadness.  We stopped for a coffee and toasted sandwich while watching some of the man people of the area out surfing, kayaking and fishing.  We drove and wove our way through the back lanes and interesting alleys of the town, at one point even finding a PADI dive centre that did a full range of diving courses including Technical courses – holds out hope that we can find some nice dive clubs/schools here. 
After Teignmouth we followed the coast road down to Torquay which is a huge seaside town where every building was either a hotel or a bed & breakfast which seemed to be painted in garish colours.  We can only imagine that in summer this is a tacky "seaside resort" that lost all its charm years ago.  We didn't stop much except to take a couple of photos and kept to the road, not really anything that caught our eye or was vaguely enticing.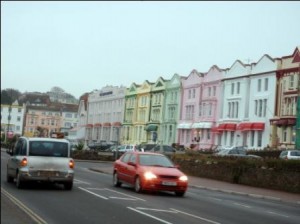 We continued on the seaside road down to Dartmouth.  As soon as we got near Dartmouth it captivated us, it was the typical seaside resort, beautiful with lots of winding streets.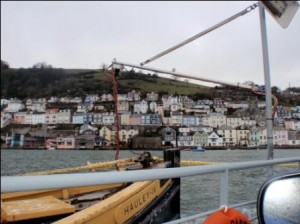 We had to drive down and get onto a small 8 car ferry across the river Dart which was fun and let you see all area from the river.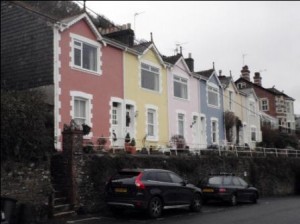 Dartmouth is an historical port and includes Kingswear Castles which stand guard at the estuary.  There is also the Dartmouth Naval College which is closed at the moment but it stands over the town looking majestic.  The only problem was the availability of parking, it was a nightmare and we drove for quite a while before managing to find a bay – no the wonder most people drive small cars.  We wandered through the streets, stopping for a drink at the main pub.  The drinks were alright, but it was so busy it was hard to find any atmosphere.  We got a table by the window and were able to see all the comings and goings.  From there we meandered to Marks & Spencers Food for some nibbles for dinner tonight, before heading back through the town looking at the harbour and all the boats.  The property prices are very expensive here, but you can understand why – if only I had a job that let me work and live in a small village, hmm time for a career change? 
We got back in the car as it was starting to get dark (yes it was nearly 4pm) and headed for Newton Abbot which is meant to be a market town and the centre of the cider making district.  What a total disappointment.  It is a huge town, but we found a pub (Richard Hopkins), that had a sign up advising it was in the best beers 2010 guide for Britain and ordered a glass of wine and half a pint of scrumpy cider.  It is a sad state of affairs when we leave a drink and walk out, it was awful and the place was awful, it has to rate at the worst we have been in – if you are in Newton Abbot don't bother with the pub on the main street.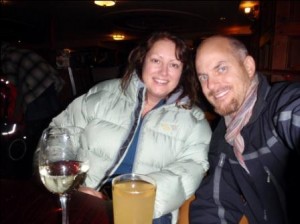 So after a great day, but bad end to our sightseeing, we got back in the car and headed for the Strahans for our last meal together L