Sunday, 30 May 2010
Our last day in KK in a while began with another restless night in our dorm-like room.  The outside noise just seemed to go all night – and when it wasn't the local making a ruckus outside on the street, it was the other hotel guests coming in from their night's out or just generally seeing how many times they could slam doors on the way to the bathroom and back.  Eventually Tracy's wake-up alarm sounded and we did our final pack.  We headed downstairs to checkout and eat breakfast at the hotel – typically, the day we wanted to eat at the hotel was the day they weren't serving roti, so we settled on toast and a few bananas washed down with ok coffee.  We made an arrangement to leave one bag at the hotel, containing all the diving gear and some other miscellany that we probably won't need in the next two weeks, so our packs are much lighter for the moment.
Our taxi driver was waiting for us when we stepped outside the hotel and he delivered us at the new terminal at KKIA.  We discovered our flight was not an internal flight, but was going to Kuching en route Singapore, so it was an international flight.  We arrived just an hour before departure, so were asked by the check-in clerk to proceed directly to the gate, which we did.  Our MAS flight departed on time, and again, we were offered meals and drinks on the flight – we must remember that MAS serve food so must arrange a vegetarian meal on our next flight.
We landed in Kuching and took a pre-paid cab to our lodging, Madarin Hotel.  It doesn't look like much from the front, but the room is clean and has a private bathroom; the air is a little musty, probably caused by the humidity and the old-style in-the-wall air-conditioner.  We dumped our bags in the room and headed out onto the street to find our bearings.
We are just a short stroll from Chinatown and the waterfront.  The waterfront promenade is reminiscent of Singapore with paved paths and parklands next to the river.  The Southern bank of the river is dominated by the new State Assembly Building.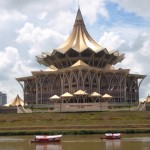 Things are a little quiet today, given that it is Sunday on a long weekend which is also just a few days before the local new-year (celebrated on 1 and 2 June, when a lot more things around here will be closed).  We went along the river as far as we wanted, there was a little green energy set-up with wind turbines and solar panels – which made Tracy become all psoitive for a short while.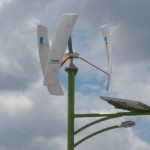 We then turned away from the river to head into some of the backstreets and found ourselves in a mall (might have been the Indian Mall according to our not-so-good tourist map?)  There was an eclectic mix of stuff, food to junk, ugly fake trees to even uglier polyester curtains.  At the end of the mall was a small restaurant, Little Lebanon, where we had a cold drink, hummus, felafel and Turkish coffee for just RM14.  There were a few Westerners there too, and each table had a hookah as the centrepiece however it was too early and certainly too hot to be partaking.
We were sort of just wandering around when we walked near the courthouse and spied a sign for a tourist information office and thought we might see if it was open, to our surprise, it was.  We had a short wait (we didn't mind because the office was very pleasantly air-conditioned – did we mention it's hot here?).  We had a chat with the very helpful lady there and she suggested some things to do and a new possibility for us to do all the things we want to do in Sarawak whilst heading up the West coast into Brunei and Labuan and eventually back into KK, without doing a lot of backtracking.  The Lonely Planet didn't mention a lot of the information she had, proving the worth of visiting these centres when you have the chance and not solely relying on the (quickly out of date) guide-books.
Armed with a load of possible new itineraries, we strolled back to the hotel, stopping in a few trinket shops on the way to check out what was on offer.  There were a plethora of small sidewalk stalls selling multilayered cakes; we sampled some at one stall and decided to buy a piece of sweet-and-sour cake; it's really hard to describe the flavours, but it is very nice.
Back at the hotel, our normal routine resumed with siesta.  Scott woke up first and spent a long while just gazing out the window, watching the world pass by and the thunderstorm close in on the city.  At about 16:30 it started bucketing down, so thankfully, it is a lot cooler.
After a couple of hours the rain eased off so we headed down to the waterfront to try to find somewhere to eat.  It might be because it's Sunday or it might have something to do with public holidays et. al. But it was really quiet.  Many of the food stalls weren't open and there were only a few small groups meandering along the pathways, looking just as bemused as we were at quiet it was.  We eventually selected a small stand at which to have dinner.  We shared a plate of noodles and a plate of tofu, washed it down with juice, then headed back into the early evening to take some photos of what we had seen by day.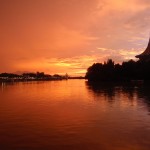 We both have sore throats (for Scott, again) probably due to the exposure to and reliance on air conditioning at the places we have stayed.  Anyway, we had an early night in the hope to stave off any colds, or worse.