9 June 2011 (Thursday) Galway
We get the local bus into Galway for a day of sightseeing.  Galway is made up of the new and old parts of town and we mainly stayed in the old parts visiting Colelgiate Church of St Nicholas  of Myra, Lynch's Castle, Spanish Arch & Medieval Walls, Galway Cathedral, Eyre Square and surprising the most interesting of places the Salmon Weir.  We talked to one of the gentlemen there fishing and he told us he booked his six hour spot of fishing nearly a year ago.  There is even a camera inside the lodge so you can see where you are casting and where the salmon are.  Luckily after all that effort, he had managed to catch a salmon.  We continued walkingW through the town, whereby Tracy found a bookstore and bought another bag of books – in case there is a nuclear disaster and there are no more to purchase. 
We catch the bus back to closeby the caravan park whereby Tracy spots a local hairdresser who can fit her in for a cut while Scott heads off some r&r at the campsite.
10 June 2011 (Friday) – Galway ->  Renvyle
We left Galway to head towards Renvyle as there is a ScubaPro Test Dive Weekend at Scuba Dive West (http://www.scubadivewest.com/index.php).  Leaving Galway we followed the coast road (R336) in the usual rainy weather.  The scenery is wonderful, all cliffs and small roads with tiny farming hamlets.  We stopped at Ballyconneely to pick up some smoked fish that Scott has become a fan off.  Before heading through to Renvyle where we drove to Scuba Dive West and had a tour of the facilities and put our names down for tomorrow.
We then parked up for the night at the Connemara Caravan & Camping Park, Lettergesh Renvyle, Leenane, Connemara, Co. Galway.  We were the only non-static motor home here, so got a great spot on the top of the hill with the oceans and cliffs surrounding us.  We had a walk along the coast as far as we could, although when it started to feel like we were walking in quicksand we gave up and headed back watching the wonderful sunset.  Strangely the weather has improved and there isn't a cloud in the lovely pinkish sunset.
11 June 2011 (Saturday):  Renvyle
Up early as we had run out of gas and needed to get a refill.  Unfortunately at this time in the morning, things aren't open or they don't have exactly what we need.  So we give up and headed into the Scuba Dive West (http://www.scubadivewest.com/index.php) where everything is all set up.  The scuba complex here is fantastic.  The classrooms and everything are all on site and you just walk out the front door and down a small ramp and you are in a small sheltered bay where you can dive to about 10m in with the kelp and natural reef.  There are approximately 40 other dive sits in the immediate vicinity that can be reached via small boats.  In the complex there is a shop, chill out area, ample parking, showers and large change-rooms that can be reached from outside steps that also allow you to wash your gear and hang it up.  A well set up area and definitely worth going to.  We sign up and grab a new dry suit, gloves, hoods etc (and because it is a dry-suit my seawing nova's don't fit, so I had to get a larger size boot and a larger size fin.  We headed out to the sheltered bay for me to practice in a dry suit.  Okay from the beginning, this is definitely not for me, I found the dry suit overly complicated as you need to inflat and deflate it, as well as your bcd and manage the camera.  The neck had been tightened for me and I started to find that a bit uncomfortable and not least of all, found it very difficult to control my buoyancy, so after much frustration from Scott, we eventually gave up.  On the good side i was toasty and warm and dry.  We came back into shore where I swapped my dry suit for a Nova Scotia semi-dry and that was it we were away, I loved it.  I think having my own boots and fins also helped as they weren't so floaty. 
Again we just did the reef dives and it is amazing just how much sealife there is.  Considering it is about 10 degrees, I would have thought most things would have given up.  There were huge crabs, eels, loads of nudibrachs, slugs, kelps, corals and even starfish.  It was great fun fossicking around.
Scott signed up for the boat dives being held tomorrow, but I thought I would give it a miss as it will give Scott an opportunity to try out some more of the Scubapro gear without having to worry if I am rocketing to the surface or not.
The best thing about the Scubapro day is that you get to hand everything back at the end of the day and don't have to worry about gear being wet etc.   The other benefit is the discount if you buy anything making is considerably if not nearly half the price of items in Australia.  If only we had known that before we left.
We headed off to a different camp-site tonight as we wanted to be closer to some of the larger towns to try and get gas, but alas it turns out that our motorhome isn't set-up to accommodate the European gas cylinders and fittings, so we head back to Renvyle Beach Caravan & Camping Park, Renvyle Peninsula, Connemara Co. Galway (www.renvylebeachcaravanpark.com) for a rethink of what we should do.  The campsite doesn't have the same views as yesterday, but it is right next to the ocean and there is nothing better than falling asleep listening to the waves.
 12 June 2011 (Sunday) – Renvyle
And what a difference a day makes.  Got up this morning to a howling gale and wind.  Hmm not boding well for diving, but we are here, so off we got to Scuba Dive West where Scott rugs up and heads out for his first dive and as I am not with him, he opts for the Scubapro dry suit.  I spend the morning pottering around in the van doing some bits and pieces, although mainly reading watching the increasing storms around me.  Scott only does one dive today as he was cold even in a dry suit with climacool underneaths. 
We head off into the nearest big town and start the process of changing the fittings in the van over the EU standard and hope that we don't blow ourselves up in the meantime.  However, it seems after fitting all the bits and a new cylinder, we can get gas into the van, but the pressure readings and gauges don't work, so that is another thing to fix later.
We head back to Renvyle Beach Caravan & Camping Park where we spent last night as that is closer to the main motorways for tomorrow's drive down to County Clare and the Cliffs of Moher.
13 June 2011 (Monday):  Renvyle -> Doolin
We bite the bullet and take the main road down through Galway into County Clare as I think Scott is a bit over all the small laneways.
The scenery therefore is relatively bland and depressing with house after house for sale, and the ones that have for sale signs that look really old are actually empty along with lots of new housing estates where the work seems to have just stopped.
We have decided to drive along the coast from Galway and see some of the pretty inland towns in County Clare.  We get to Doolin which is also a ferry point for the Aran Islands, which we haven't made it to yet as we went scuba diving instead.  We park up at the O'Connors Riverside Camping & Caravan Park, Doolin, Co. Clare (www.oconnorsdoolin.com) which is a small site backing onto a river, with a pub, shop, etc just across the road – perfect for us.  Scott goes for a job and I read a book.  I do think my method of training for the London Marathon is far better.
When Scott gets back etc we head across the road to the tourist information counter to get the ferry times for the Aran Islands and then pop into Fitz's Bar for a quick drink and maybe a snack.  That quick drink turned into many as we met an old Irish couple and listened to the spontaneous irish music being played.  It all became a bit of a blur after that and all I can say is that I had just the one too many.
14 June 2011 (Tuesday):     Doolin
Well I got up and then decided it was heaps better if I actually just stayed in bed with some panadol and a glass of water.  Scott annoyingly was his usual chirpy self.
Eventually I got up after lunchtime and we had a short walk down to the ferry port and looked through some of the shops and basically just pottered around.  There is no way i can get on a ferry , of course there is no way I can get into the car, so we are stuck until I start to feel slightly more human.  Luckily it isn't the best weather today, so ideal for doing nothing.
15 June 2011 (Wednesday):  Doolin -> Killarney
We drive into Killarney not actually knowing much about it to be faced with a large very touristy city that has American flags hanging everywhere.  We park Vinnie and walk around the town which is very pretty.  We find a lovely little cafe for lunch before deciding to stay for a couple of days and head out to Fleming's White Bridge Caravan & Camping Park, White Bridge, Ballycasheen Rd, Killarney, Co. Kerry (www.killarneycamping.com), although we also looked at another caravan park nearby but it was a bit further out of the town.
We settled Vinnie in and put on our walking shoes and headed back into Killarney for a walk through the laneways and a visit to the local tourist information centre to get some information on tours of the area.  As the roads are tiny here and it is about time Scott had a day off driving, we have decided to do the tourist thing and do a bus tour of the Ring of Kerry.  We stop in at a little pub for Scott to have another Guinness (just to ensure that it is the same as everywhere else) and list to some local music for a while.  Scott loves the fact that most pubs at some point play the Pogues, I am still missing Abba, so can't really comment.  We then wander back through town and find a kitchen shop and actually buy a decent knife, a small thing, but very important. 
16 June 2011 (Thursday):  Killarney 
We pay for our tour of the Ring of Kerry and the bus picks us up from the front of Fleming's White Bridge Caravan & Camping Park.  We head into Killarney where we all change to the relevant buses for our tour and head off.  The bus is full of mainly Americans – we just can't get over how many of them are here.  First up we follow the N72 which takes us through to Killorglin, before turning onto the smaller road of the N70 and passing through Glenbeigh where we now see Dingle Bay and the Atlantic Ocean.
We drive through the peat bogs and stop at a local pub and bog museum (Scott opted for an irish coffee instead of the museum tour).  I of course spend more time just listening to the mindless drivel of other tourists who I would hazard a guess have never been anywhere else in their lives.
We then stop at several of the tourist towns for differing size breaks.  Although I would have preferred to by-pass these and stop at some of the old ruins etc to take photos, but you know what it is like when you are on a coach tour, need to make everyone happy.
After the tour we get dropped off at the caravan park and Scott goes for a jog and on his return we head into Killarney for a nice pizza and a few drinks at some of the different pubs before walking back in the rain to the campsite. 
17 June 2011 (Friday):  Killarney -> Skibbereen 
We leave Killarney via the main road, as the smaller roads were very tight for Vinnie as we saw yesterday on the drive through the Ring of Kerry.  However, we managed to make it across the Killabunane Road (not suitable for HGVs or buses – hah, Vinnie made it) which cuts through the Caha Mountains.  This is some of the most bleak terrain we have come across.  The villages are little more than one or two houses and the area is mainly sheep farming.
Bantry:  After the hectic driving, we stop in the town of Bantry for lunch. On the entry into the harbour there are loads of loads of oysters and mussle farms, so we figure this must be the main type of industry.  We find that Friday's is the Friday Market in town and there is a wide selection of both food and other vendors – you can even buy a pony.  Damn won't fit in Vinnie, so we venture into a local pub and have a soup and chowder.   
Durrus:  we wind our way through some very small roads, laneways and what even appear to be people's driveways to get to Durrus Cheese.  This is a small local producer of cheese what we have seen advertised.  When we get there Jaffa Gill has just left to go to England, so we speak to her husband who we purchase some cheese from and he explains the set-up and the property.  They bought a almost beyond repair old cottage in the 1970's and have been restoring it ever since.  It is now a lovely home that fits perfectly into the surroundings – so jealous.  We then have to rewind our drive back through the laneways etc to the main road.
and to the town of Baltimore and it is a lovely picturesque town that is definitely a sailor's paradise, protected good pubs, restaurants and views.  We tried the local dive shop, but it is closed, so Scott calls them and there is no diving tomorrow due to bad weather.  We park in one of the many car parks and have a walk around the town in the sunshine.  We are thinking of camping here tonight, but as there is no diving we will head into Skibbereen for the farmers market tomorrow.  So we head to The Hideaway Camping & Caravan Park, Skibbereen, Co. Cork which was recommended by a lovely Dutch/German couple parked next to us.
18 June 2011 (Saturday):  Skibbereen -> Baltimore
As there is no scuba diving today due to bad weather we head into the Saturday farmers market for Skibbereen (runs from 10am to 1:30pm).  This is just a short walk away from The Hideaway Camping & Caravan Park, so we wander into the market town which has a worn down look.  There are a lot of shops and empty properties, but no different to most of the market towns we have been through nearly everywhere in Ireland.  Anyway we eventually find the farmers market behind the Supervalue and it has a great range of local organic produce including veggies, seafood, meats, baking etc.  So we purchase a few nibbles including some very gorgeous looking samphire and wander around tasting and trying different items.  This was definitely worth a visit and we picked up some venison burgers, salmon, veggies, tarts, olives, hummus, samphire etc – we are going to live like royalty for the next few days.  The weather is of course not the best, but you have to be realistic and go with the flow, so we wander back through the town and head back to the campsite where we use a break in the weather to do some maintenance on the van and actually do some "housework".
19 June 2011 (Sunday):  Baltimore 
Up early and down to Aquaventures Scuba Diving in Baltimore for two boat dives.  We pick up our rental thermal wetsuits, hoods, gloves, weights and cylinders.  Not as luxurious as last weekend for the Scubapro Try day, but hopefully we will be warm enough.  We then do a quick 5 minute walk down to the pier with the other four divers and onto our dive boat, which is even fitted with a dive lift so there is no lugging your wet gear etc – awesome is my thoughts on this matter.  Anyway today we are blessed with sunshine and relatively warmth, so our first dive is about 10 minute boat trip out of the harbour to dive with the seals in a giant kelp beds near a couple of islands.  We kit up, grab the camera and jump in and omg it is freezing – well only a little bit freezing, anyway, Scott and I head off in a different direction to the other divers and start fossicking around in the kelp and come across a huge area just jam packed full of giant crabs and lobsters plus the most beautiful jellyfish.  There are a couple of crab pots down there that are empty and you are so tempted to cut them loose.  We continue going in and out of the kelp, but can't find any seals, and they don't come and find us – they are mostly lazing in the sun on the islands.  After about 30 minutes we have frozen through so head up to the surface where the boat comes to us and we stand on the lift and wella we are onboard.  Again awesome.
We motor around to the other side of the island for our second dive which is a wreck in between 20 and 5 metres of water.  However this time as soon as we both get in we are cold – it is 10 degrees.  We have a quick swim around the wreck which is really interesting and there is loads of marine life and the visibility is really good.  The camera either doesn't like the cold or is having a day off and has decided not to work on this dive.  After 25 minutes we head up to the safety stop and spend our three minutes shivering before surfacing and being lifted onto the boat.  This is one of the easiest dives I have ever done.
We head back to the pier and unpack the boat and have a shower at the dive centre.  We then park Vinnie on the waterfront near the harbour and head up to the town centre where the pub is packed with people taking advantage of this one day of summer and have a drink with a couple we met at the dive school.  We are parking Vinnie in the harbour and camping there tonight, so head back and sit and watch the sunset over the bay. 
20 June 2011 (Monday):  Baltimore -> Blarney
On a total opposite from yesterday the weather is very grey, windy and rainy.  Obviously yesterday was summer.
Drombeg Stone Circle:  according to the map should be signposted; alas no signpost was visible anywhere near where we had expected this to be, so we gave up.  Secretly I am sure Scott was pleased as I think he has had enough of stone circles, cairns, piles of rocks, standing rocks or any other form of rock.
Clonakilty:    we were going to stop at Clonakilty as it is the birthplace of Michael Collins, but were unable to get a parking bay.  It seems towns either encourage people with cars over 1.5metres or they don't and Clonakilty was a don't town, so we just drove through.
Kinsale:  is a lovely seaside town with windy streets and picturesque settings.  We even managed to squeeze through some of the smaller streets as we looked for a parking bay, however, we soon managed to get into town and yet again find a good parking spot in the centre of town and had a quick walk around where we managed to get soaked and settled on a fairly average pub for a hot meal.  When we ventured back outside, it is raining (hard) and extremely windy, so we head to the not very appropriately named town of Summercove to see Charles Fort.  This is a fascinating star shaped fort which was originally built in the 17th century.  It has fantastic views over Kinsale harbour and you can walk and wander through the buildings.  Although most of them are derelict (they were burnt down by the Irish in 1921 so that nobody could use them) there are a couple that have been restored and now hold exhibitions showing photos and items from the early 1900's.  We also listened to a talk by one of the guides on the history of the fort and the changes over time.  Very informative and only 4 Euros per person.  If the weather had been nicer there was plenty more buildings to explore, but as we were now totally drenched headed back to Vinnie for some warm clothes and heating.
We left Kinsale and headed up via the M27 skirting through Cork to Blarney Caravan & Camping Park, Stone View, Blarney, Co. Cork (www.blarneycaravanpark.com).  This campsite is nicely laid out and has the huge added benefit of unlimited hot showers.  We also did the boring and mundane washing and drying of clothes.   
21 June 2011 (Tuesday):  Blarney -> Tramore
Blarney Castle:   We got up early to ensure that we weren't standing in the queue with hordes of American tourists.  The park opened at 9:00am and we were there by 9:30am with only a few other people around.  We headed into the park (10 Euro per person) surrounding Blarney Castle where you are gradually led to Blarney Castle itself.  The stone sits atop the 15th century castle and you wander up the spiral staircase through various rooms and plaques describing castle life in its heyday.   Once you do make it to the top and walk around the battlements a lovely old gentleman will help you lean over backwards and hang onto two rails as you kiss the blarney stone.  Because I did it first, Scott didn't want to lose face so he did it as well.  Although we must both confess we didn't actually kiss the stone – gross.  We meandered back down as the crowds were starting to stream in as a couple of bus loads had deposited their cargoes.  We headed into the Poison Garden which is made up of medicinal and toxic plants.  We were surprised how many of them we have in the garden, so now we may rethink a couple of things.  The funniest part was the exhibition of cannabis plants with a sign that the bed is currently empty due to the Garda not recognising the permit that the castle has to display them.  We then did the walk through the Rock Close, which is described as breathtaking, hmm not sure it is the words I would use, and even the waterfalls are installed.  It does look like it has been abandoned though.  You are meant to walk up and down a set of stone steps with your eyes shut and think of nothing except the wish you want to be granted.  Unfortunately the four loud Americans that were there who were too worried about how many steps they had to go etc didn't quite get it.
Barryscourt Castle:   We popped into Carrigtwohill to have a look at this castle and it was certainly a roundabout drive as the signposts make you go in circles, finally getting to the Castle.  This is a 12th century castle which has been restored.  We lucked in and tacked on the end of the tour that had just started (this castle is free but still has guided tours).  Take note it was a great tour and you went through the history of the castle, the restoration work done and the life of the families since then who lived in it.  The gardens are also well maintained and restored.  Not sure how this all gets funded but it was extremely informative, interesting to hear about the history and be able to put it in perspective.
Youghal:  After Barryscourt we thought we would head to Youghal for some lunch.  It didn't get a good wrap in the Lonely Planet, however, it was the place where John Huston filmed Gregory Peck in Moby Dick and I wanted to see harbour etc.  We found a parking spot (free for three hours) right in the middle of the town and walked across the road to The Nook (or Treacy's Bar) for a great home cooked lunch and even a local ale for Scott.  The pub was fantastic and the staff very helpful.  They recommended we head up to the church, so off we ventured to St Mary's Collegiate Church which was originally built in 1220.  The graveyard is fascinating, they have set up a walk through the gravestones and there was even a guy sitting there singing and playing his guitar (not even busking), all leading to a very other worldy feeling.  As well as a walk they had information pillars about the plants and wildlife and yet again didn't charge for this.  However, the church was locked so you couldn't go in.  We then followed the medieval walk through the city past the Clock Tower (1770) and down to the pier to see the harbour.  It is really a great city with plenty to see and do and worth a stop.
This morning when we left Blarney we had thought we could make it all the way up to Kilkenny for tonight, but on a realistic rethink and how long we have spent sightseeing today, we have decided to make for Tramore for a break before continuing tomorrow.  We find the Newtown Cove Caravan & Camping Park, Newtown road, Tramore, Co. Waterford (www.newtowncove.com) which is on the beach and only a 2 km walk into the town centre.
Wednesday 22 June 2011: Tramore -> Kilkenny
As usual it is raining, so we leave the seaside resort of Tramore and drive inland to Kilkenny bypassing Cork.  Scott is getting a tad sick of Guinness so thinks maybe Kilkenny will refresh the tastebuds.  We park up at the only campsite we can find and then do the short walk into Kilkenny for a look around and to see what is happening.  Kilkenny seems to be a relatively typically Irish town with a new part and an old part.  There is loads of history as well.
Thursday 23 June 2011: in Kilkenny
Up early and after making a few calls to the English and Australian embassy to try and locate the "missing passport" we head into Kilkenny and walk around some of the old sites and also do the Kilkenny brewery tour which was actually good fun.  The guy giving the tour had worked there all his life and knew a lot of the history and information and you could see he was just holding himself back from keeping us there all day.  After the tour there was the free pint (at least as he poured some extras) so Scott had a few more.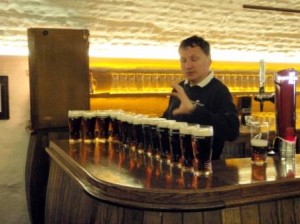 We walked back through the town enjoying the sights.  We stopped for a late lunch and for Scott yet another pint before heading back to the campsite and a afternoon nanna nap.  Kilkeeny was great and a must stop on the tourist trail.
Friday 24 June 2011: Kilkenny -> Redcross
Up early into the horrible weather again and we are now heading to Redcross which and going through County Wicklow.  The scenery is lovely, not that we could see much as it was raining buckets, no surprise there.  We got a call from the Australian embassy to say that the passport has been located and Scott can pick it up on Monday morning – yeah, we can now leave Ireland and go anywhere. 
Once we get to Redcross, the weather has not improved and Scott and I seem to be a bit sick of being stuck inside so spend the afternoon ignoring each other until dinner time when we venture into the pub that is attached to the campsite for a drink and a meal.  Inside the pub it is defeaning with kids screaming etc, I understand it is raining, but a dull roar would be much nicer for everyone else.  Anyway, we had our meals etc and wandered back to the wet motorhome.
Saturday 25 June 2011: Redcross -> Dublin
We make a beeline for Dublin now.  We will be staying back at Camac Valley where they have free wi-fi so we can book ferry crossings etc for France.  We are now on a tight deadline to make the start of the tour.  Tracy wants to spend the day chilling out in the sun (yes it is sunny) but Scott wants to potter on the van which includes him having to keep driving to the equivalent of Bunnings for spare parts and therefore everything to be packed away each time.  A tad annoying to say the least.
Sunday 26 June 2011: in Dublin
The waiting game continues.  We didn't do a lot in Dublin, as we had already done our sightseeing, so and as the weather was vaguely warmish we did some maintenance on the van, with Scott doing additional trips to the hardware shop and setting up the inverter etc all ready for the purchase of a TV when we get back into England.
Monday 27 June 2011: in Dublin
Scott headed off at the crack of dawn to the UK embassy to get his Australian passport back, along with a shiny long-term UK visa, so now he can come and go as he pleases without, hopefully, any of the problems previously encountered at Heathrow.  After he returned to the campsite, we headed back into Dublin to buy my gorgeous god-daughter a pair of Irish dancing shoes and posted them to Australia and went for a celebratory lunch and drink in Temple Bar, before getting the bus back to Carnac Valley Camping Group and packing up the van for the trip to the UK tomorrow.