9 February 2011
Well as we went for a walk/jog on Monday and Tuesday, it was time to undo all that good work and head out for a local pub meal with a drink.  We went to the coach & Horses for dinner as it does two main meals and a bottle of wine for GBP20 on a week night, so we imbibed and had a great night reading the local papers, listening to the locals and enjoying the warmth of the log fire.
11 February 2011:  Oxford
Up early today as we are catching the 8:22am train from London Paddington to Oxford.  I have to say it takes almost longer to get to Paddington that the overland train service too to get to Oxford.  We opted for the bus from Kew Bridge to Hammersmith which just took forever as it stopped at every stop and just slowly made its way through traffic.  We should have caught the train from Gunnersbury – but hindsight is great.
On arrival to Paddington, the object of the game was to find the self-service ticket machine, as the tickets you print off are only for your record.  We finally found the one and only ticket machine and joined the queue, put in all our details to get our tickets (9 individual tickets were dispensed, so there is no idea of sustainability and reducing resources in this process), before standing around trying to work out where our train was as the platform isn't printed on any of the handful of tickets.  What was even funnier, is that none of these tickets worked through the barrier, you have to show them to the guard, begs the question of why bother and just use the voucher we printed off?  We had booked a window seat in a quiet carriage.  We ended up with an aisle seat in a quiet carriage, which I can only presume was noisier than the normal carriages.  The lady next to me, just loved the sound of her own voice and prattled on for the 2 hour journey about management training skills etc.  God I was almost sick with the information she sprouted.
We arrived in Oxford and eventually found the tourism office and booked our walking tour, before going around the block to the public toilets (these are probably worse than India, just awful and seem to be the only ones), however, not far away we found a lovely cafe (Heroes) for a coffee. 
There were a variety of nationalities on our tour and Felicity our tour leader was full of information and kept us on track.  We went into Jesus College, Divinity College, walked through some streets and found out a lot of information on how the colleagiate system works.  Oxford is made up to approximately 38 colleges based on a federal system and has been in existence for 800 years (older than Cambridge).  Entering the colleges is like stepping back in time, they are steeped in tradition and history and the most beautiful architecture.  They still operate similarly to when they were first founded and are heavily in the news these days for increasing tuition fees to the maximum of £9,000.  To be honest, just studying where some of the great minds have been before you would be awe-inspriring. 
Of course, Felicity's big information of the tour was that Exeter college was where J.R.R. Tolkien studied and that "The Inklings" drank at the Eagle and Child pub, so that was our afternoon sorted out.  Felicity also pointed out areas where Morse had been filmed and also the restoration processes being currently undertaken in the Bodlean Library section.  This is a huge restoration project and doesn't look like it will finish anytime soon.  Inside the Bodlean library was fascinating, and we sat in the hall there the undergraduates prepare to walk through for their graduation ceremonies.  It would seem that this has been happening since the start of Oxford and whenever a new piece of tradition is attempted to be introduced it gets voted down.   This hall was also used in the Harry Potter films as the hospital.
After the tour we headed straight to the Eagle and Child pub  where both J.R.R. Tolkin and C.S. Lewis used to come with other writers in Oxford at the time to drink and discuss their writings.  I would suggest that the pub is riding on the glory of times past.  However, Scott was excited and stuck his nose into the part of the pub called the Rabbit room (convenient name) where all the discussions used to take place.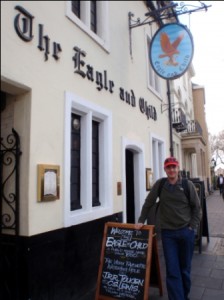 After a, I must say, ordinary meal and drink, we walked back through Oxford to Exeter College.  This was meant to be open to the public, but is strangely enough closed, however, on looking very bewildered and disappointed, the porter let us in to have a wander around.  The first quadrangle was surrounded by gorgeous architectural buildings and a wonderful chapel.  The colleges were originally aligned with the church, but, apparently, no longer have this alliance, although I would still have to question this.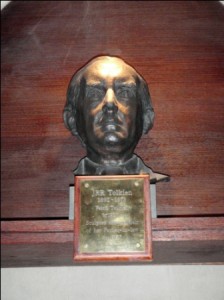 So Scott is now very happy, having seen where one of his favourite novelists lived.  We can now go back to focusing on seeing the architecture of Oxford – oh, now I am mistaken.  Apparently in the Museum of the History of Science there is one of the actual blackboards Einstein wrote on in one of his three lectures in Oxford (1932), so that was next on the list.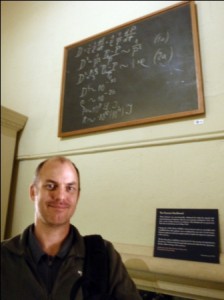 The Museum was an intersting place, having a huge variety of exhibits – including the equipment used by Florie in his penicillen experiments.  Amazing that people remember to keep this stuff, as I presume so much would have been destroyed.
We were now free to wander the streets of Oxford and enjoying the atmosphere, trying not to get run over by cars, buses or bikes.  We have booked the late train on the expectation that Oxford would be packed and lots of things going on.  Alas, hardly any of the buildings were lit up and although we enjoyed a drink etc in the White Horse, it soon thinned out.  Obviously there is the after work drinks crowd, but I suppose a lot of people have to commute, so they didn't stay too long.  We continued to walk around the area, finding another nice pub to rest up before making our way to the train station.  This time our tickets were also booked, but we couldn't sit in our seats due to the sleeping person who took up his seat and the rest of the table and therefore our seats.  We sat in another spot and before you know it, we were back at Paddington and then making our way back via tube to home – exhausted, but having a great day out.
12 February 2011:  Twickenham
Finally Scott is excited.  We have had the tickets to the England vs Italy Rugby Union 6 Nations game for a while and it is today – plus it looks like it may not rain.  We head off early on advise that the roads may be busy, so better to get there earlier rather than later.  We arrived in Twickenham to what felt like a million other people – we had to ask directions where to go, but the Police were very helpful, even giving us a map where to go.  so we walked off to Twickenham Stadium, even though we were early.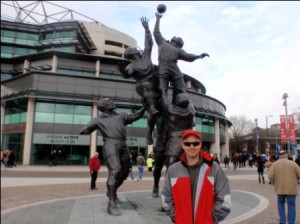 There was a great outdoor area set up with loads of food, pubs and general entertainment areas, along with huge screens to show previous games and highlights.  Strange that were was so much alochol, two different teams and more people than you can imagine, but there was no trouble, everyone was jovial and the biggest thing forus, there was no rubbish on the ground – everyone put their rubbish in the big bins provided.  In Perth this would be unheard off.
We watched the England team bus arrive, with the biggest cheer by far reserved for Johnnie Wilkinson, he may not play a full game anymore, but is still a massive crowd favourite.
We didn't have the best seats in the stadium, but were able to get close to the english team as they were warming up.  Everyone around us was great to listen to, they certainly had their opinions about what was happening etc.  The game was a total whitewash for England, with lots of singing and dancing from the English supporters.  Not that we worked out the signing and dancing as it didn't happen everytime there was a try scored.  However, the minute Johnny Wilkinson came onto the field the crowd went wild and you feel a bit bad for the other kickder (excuse my rugby incorrect naming, but not really my thing).  The most exciting thing to happen for me was that Johnny kicked the ball straight into the crowd and it was coming straight for me and I was paralysed, but luckily Scott put his hand out to hit the ball away.  Of course in hindsight apparently he should have let it hit me, and I would have been on the TV!
And proof that I did attend:-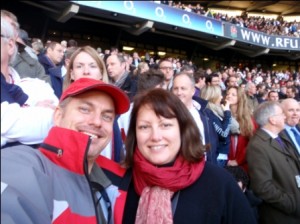 13 February 2011
This now the traditional Sunday walk followed by a roast dinner at the Coach & Horses in Kew.  They have a log fire and also a big TV so Scott can spend the afternoon watching the France v Ireland game in the comfort of a local pub with a cleansing ale.
18 February 2011:  Brighton
We are off to Brighton today.  Catching the 9:21 from London Victoria on the express service.  I have to say it is very cold and bleak and as usual we think we have undercatered in the layers and clothing department.  Never mind, too late now.  We arrive in Brighton at 10:30 and walk into the cultural quarter.  Quickly ducking into the lanes to find a coffee shop to dethaw.  We head to the Royal Pavilion.  This is one very strange but so interesting building.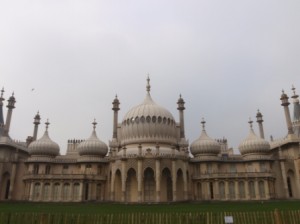 Built by the Prince Regent, later King George IV, in stages between 1787 and 1823, it reminds you of an Indian Palace with its scoped domes and intricate carvings.  So different to the regency architecture of the time.
There aren't many tourists here (no surprise as it is definately a stay inside near a fire day).  After walking through the grounds and the building, we now head into the lanes for some lunch, finding a new Thai Cafe that is awesome – great food and wine, worth hunting down if you are there.  Next on the list is a walk along Brighton Pier.  Brighton Pier was originally opened in 1899 and in 1984 it was upgraded with new features, as well as free admission.  It still has some of the original features such as filigree ironwork arches, but alas looks like an old theme park with very dated equipment and some average looking food outlets and of course a casino.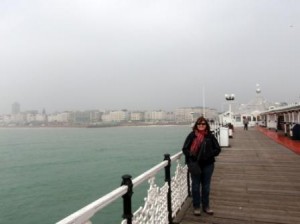 We walked from there along the "beach" in the loosest terms.  Scott is fascinated that it is a beach when there are only pebbles.  Anyway, there is a large sailing fleet here, but it looks sad and deserted, hopefully in the summer it would be a sight to see all the boats out off the coast.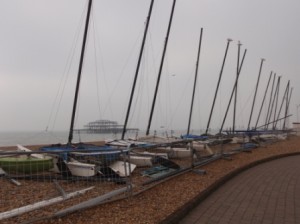 It is now getting even colder, so we head back into the Lanes for a wander through the historic shops and also for a respite from the wind.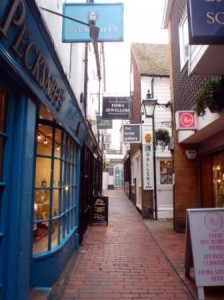 We eventually give up and head back to the train station and buy some earlier tickets back to London.