Well a quiet week is planned after Paris and a week of working beckons again.  The time is just whizzing by, no idea where it is going and the hunt for a motorhome/campervan and a plan of what to do continues.
26 March 2011
Big day today, it is the Oxford/Cambridge Boat race being held on the Thames with the finish line at Chiswick Bridge, a short walk from our apartment.  Scott's friend Geoff is coming over to visit along with my friends Sally and Pete, their daughter Francesca and her friend.  We head off to the local pub for a quick bite to eat and a couple of drinks, before following the throng on people that were also heading up to the finish line.  This is a very historic and English thing – only ever the two colleges involved and neither of them are based anywhere near where the race itself is held.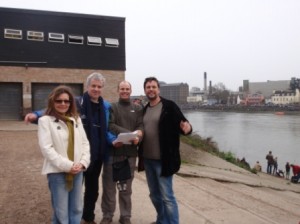 You don't really know what is going on, you just stand there on a bend in the river until you hear the cheers coming up the river and then the boats make it around the final bend – Oxford by about 4 boat lengths from Cambridge followed by a huge flotilla of boats, then it is all over and you go home.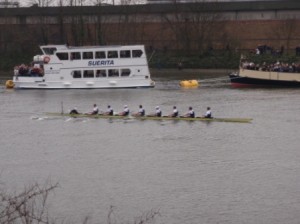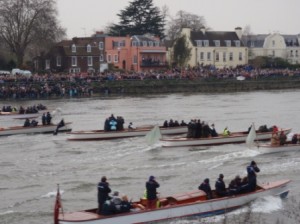 They finished at a private rowing club so you can't go in and the public footpath (obviously right of way gets forgotten at this time) is closed to the public.  So we headed back along the river into some of the local pubs which are all now heaving with people for a quick drink.
28 – 30 March 2011
Tracy is back to Bulgaria for a couple of days training/support.
31 March – 3 April 2011
Finally Scott and I have succumbed to some super cold/flu virus which has seen us both totally knocked out and living on cold and flu medication and doing absolutely as little as possible.
However, on 2 April 2011, we staggered out to socialise and see if a change of scenery would help.  We visited The Botanist on Kew Green.  I really like this gastro-pub/bistro, so different to the traditional pubs in the area.  The food and wine is also good and interesting, although they have limited ales on tap which is a downer for Scott.  We tried to drink some red wine, but obviously are very sick as we couldn't manage more than a sip each.
Again on 3 April we were starting to feel a bit more lifelike, so headed up to Shepherds Bush for a walk around, loving the fact it was a weekend and all the shops and restaurants were open.  We had a hot stone pizza at Fire and Stone, Westfield, which was very very ordinary and also very expensive, definately one to cross off the list of places to go back to.
4 April 2011
Tonight we have tickets to see Washington at the Hoxton Bar & Grill in the East End.  So we venture over towards Hackney/Hoxton for a walk around and to grab some dinner and drinks.  I haven't been to this area for many years and it has certainly changed into a very urbane chic part of town.  We found a fantastically eccentric bar (Electricity Showroom) and had a drink and some chips and mushy peas (only in England) before venturing back into the Hoxton Bar & Grill to see the band.  It wasn't a very big room, but it was packed full of Australians who enjoyed some music from home.  The lead singer, Megan Washington, puts in a very vibrant show and has a fantastic voice – her rendition of The Divinyls "I Touch Myself" was great and could be a possible release.
6 April 2011
Off to my cousin Robert's for dinner and for Scott to meet my Aunty and Uncle.  Scott is warned in advance about the Geordie accent and any quirks in the slang that we can think off.  However, the night went well and he survived with a couple of beers.  I think the hardest thing for him is understanding the huge range of English accents – hadn't thought of it before myself.